The speech synthesis industry is on the boom. That's why you are seeing so many text-to-speech tools these days.
In this blog post, I'm going to review notevibes. According to the company it is trusted by 25000+ customers.
Recently Netvibes also launched a lifetime deal. I'm also going to review that deal. But before that let me introduce you to myself.
Hi, my name is Harinderpreet Singh. I'm the founder of the Micmonster that is an AI text-to-speech tool or in other words, an alternative to NoteVibes. I will compare it with Notevibes but first let me review Notevibes.
Notevibes: How It is Different From Other?
From the long-distance Notevibes seems similar to another text-to-speech tool. However, if use their tool you will find out it is a bit different from others.
Its voice quality is almost similar however its editor is very advance. As you see you have so many things to control.
You can emphasize a specific portion of the script. You can also control volume, rate & pitch for the specific parts as well.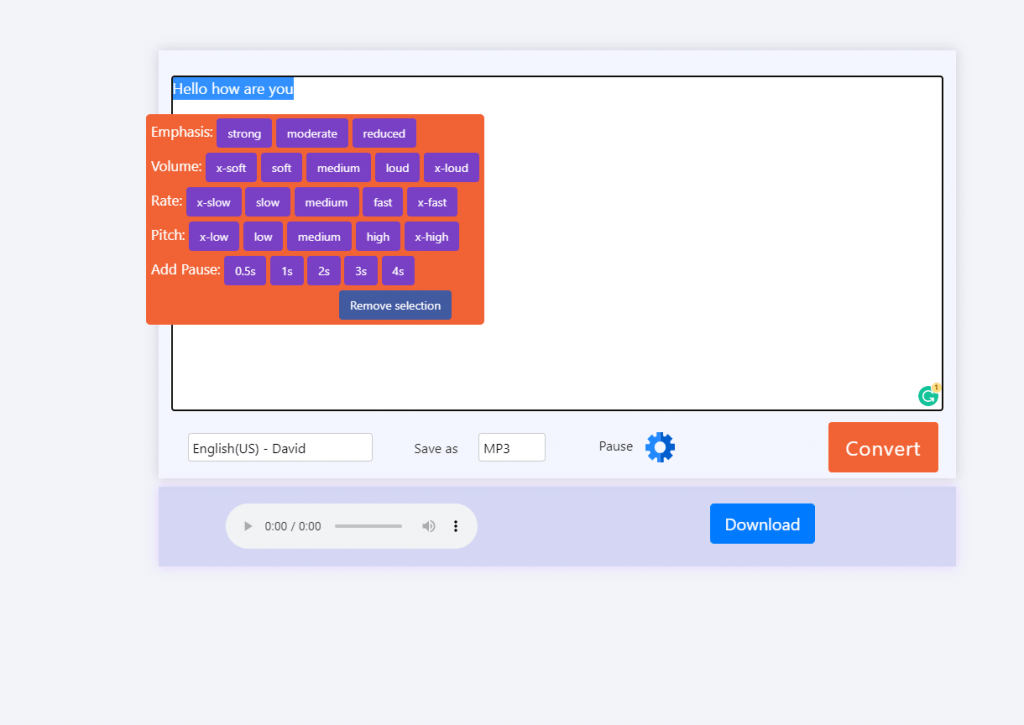 Not all text-to-speech tools allow this. This one feature differentiates it from others. Its voice quality is no different from other. Here are samples that I have generated using Notevibes.
Notevibes supports the following languages.
English (us), English (UK), English (AU), English (IN), Spanish, German, Spanish, Dutch, French, Italian, Norwegian, Japanese, Danish, Swedish, Polish, Portuguese, Russian, Turkish, Hindi, Vietnamese, Korean, Indonesian, Arabic, Mandarin Chinese.
There are total 201 voices available inside Notevibes.
Notevibes also lets you make dialogue videos where you can use more than 1 voice to create a voiceover. However, you can't control emphasis and other features.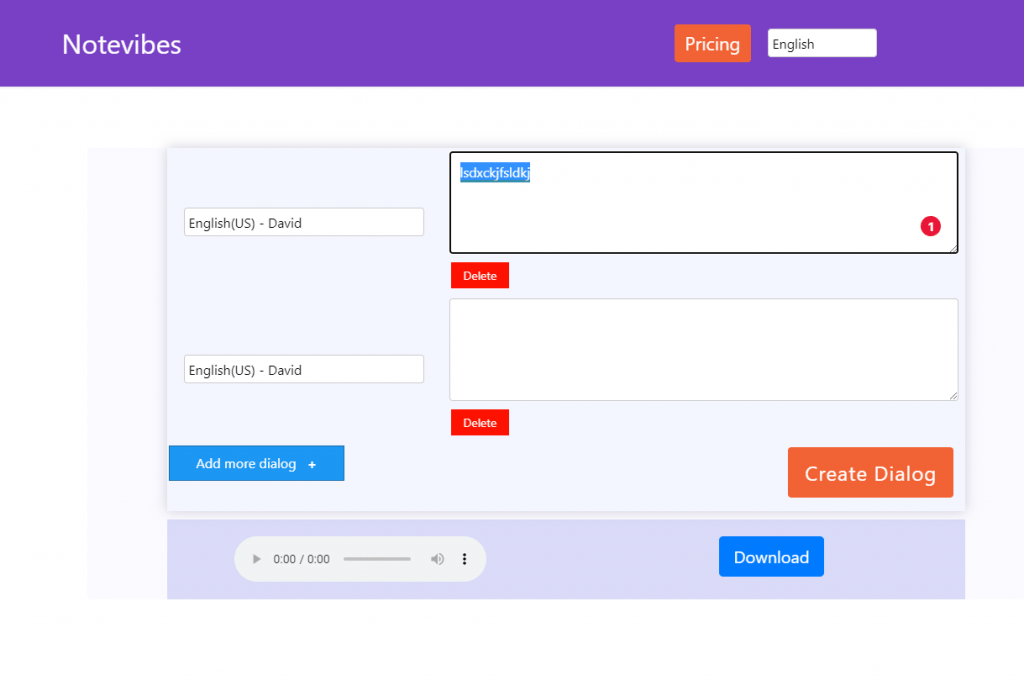 Notevibes Cons
The only advantage that I found inside notevibes is advanced editor. Other than this, I didn't notice any extra ordinary features. Here are the list of features that I miss inside notevibes.
No Preview: Unlike MicMonster you can't listen to the voice preview of the script. You have to generate the voiceover to listen.
I have also noticed that for voices there isn't any demo available. You can listen to the demo on the home page however while generating voiceovers I can't find any demo.
Basically, you have to generate the voiceover to know how does a specific speaker sounds.
No Merge: You can't combine multiple audio files to make it one. Almost all major text-to-speech tools have a merge feature. However, Notevibes don't let you merge audio files.
Voiceover & Editor Page is different: There is one specific page for generating the voiceover and one page for downloading audio files. Now switching between both of them will consume time. If you have a big project then definitely you will be frustrated switching between bot pages.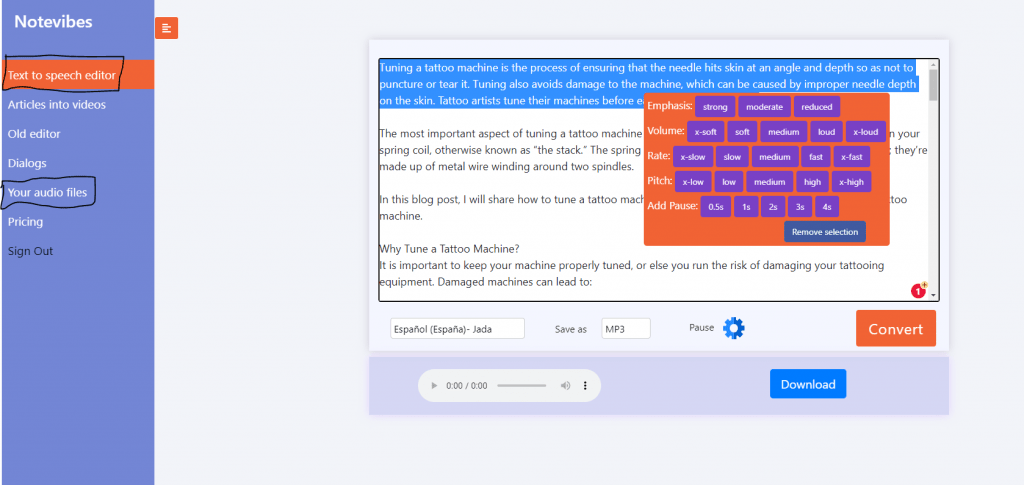 No Project-Based Structure: Another feature that you need when you have big project. keep multiple files in one place can create a mess. You can't create any project inside Notevibes. This is a very immature strutuce.
I think notevibes need to pay attention to this.
Voices Sound Robotic: If you have listened to the voice samples then you agree with me that they sound very robotic. I'm not saying Micmonster is 100% human however you will find significant differences between Micmonster & notevibes samples.
Pricing
I was shocked when I checked the notevibes pricing page. By the way, notevibes free to sign up. You can create a free account.
However you will be limited access inside the free account. Here are the pricing of notevibes.
| Personal $9/month or $84/year | Commercial $90/month or $840/year |
| --- | --- |
| 100,000 Characters/month | 100,000 Characters/month |
| File Storage | SSML tags support |
| | MP3, Wav Download |
| | File Storage |
Notevibes also have pay as you go plan where you are paying for characters.
| 300,000 | 600,000 | 900,000 |
| --- | --- | --- |
| Personal use | Personal use | Personal use |
| $29.9 | $59.9 | $89.9 |
Notevibes Lifetime Deal
I'm sure you have heard of Notecibes lifetime deal. Well yes, there is a lifetime deal but it isn't worth it.
Since you are only getting a personal license you can't upload it on the internet so that deal simply isn't worth it.
Basically, they are selling a personal plan ($9/month) at $67 on stacksocial. You are getting 1.2 million characters and everything mentioned in the personal plan.
MicMonster As An Alternative
What if you can get another text-to-speech tool that is not only better than Notevibes but also affordable as well.
We are starting developing MicMonster at the starting of 2021. Today it becomes bigger than ever before. Before sharing Micmonster features let me share Voices samples of Micmonster. So you can compare it with notevibes samples that I shared in the starting of the article.
Voice Samples of MicMonster:
Sound better? You can do so many things inside Micmonter that no other tool allows you to do it. For example
Chnage Voice Style
Pronuciation Control
Advance Emphasis feature
Merge up to 10 audio files
Preview before generating
Create Multiple Projects
Advance editor than Notevibes

And Much more
Here is the pricing of the Micmosnter.
Quarterly
$69
$39/qtr
Get 50% OFF
"50TODAY"
---
Unlimited Converts

140 languages

600+ Voices

12000 Characters per voiceover

Commercial license

Background Music Library

Advanced Editor
Annual
$299
$59.5/year
Get 50% OFF
"50TODAY"
---
Unlimited Converts

140 languages

600+ Voices

12000 Characters per voiceover

Commercial license

Background Music Library

Advanced Editor
Lifetime
$999
$399
Get 50% OFF
"50TODAY"
---
1 Million Chars/month
140 languages
600+ Voices
12000 Characters per voiceover
Commercial license
Background Music Library

Advanced Editor
Upsell is a one-time offer that is an additional upsell it is up to you that you want to buy it or not.
Final Words
I hope you got value from this article. Notevibes is great because of its editor however it is definitely overpriced.
I highly recommend you to try an alternative solution MicMonster that not only sounds better than Notevibes but is affordable as well.
Let me know your thoughts through the comment section.