If you somehow came across getwoord text to speech tool and think it is worth upgrading or not then you are on the right page.
Here I will share my honest opinion about Getwoord also known as Woord.
AI text to speech is becoming more and more part of our life. Thanks to AI new text-to-speech sound is so natural that sometimes it is indistinguishable from the human voice.
Previously text to speech was mainly used for calling IVR. However today it is used for so many purposes such as video voiceover, gaming, audiobook, training videos, etc.
In other words, it is replacing the human voice because it is more affordable and instant as well. Getwoord is one of those kinds of websites.
If you don't want to read a full review and want to know the one-line answer is worth it or not, then it is simply not worth it because this is a super expensive service compared to other text-to-speech services that provide better service. I will recommend you go with MicMonster, you can try it for free.
GetWoord Review
Getwoord is free to sign up. In the free plan, you can render up to 20000 characters per month. It has only 50 voices in 28 languages. You can only convert 2 audio files into voiceover in a month. In other words, you are not getting a lot of features from the free plan.
The good thing about getwoord is you can upload images, and documents and they have a chrome extension as well. If you upgrade to paid plan then you can integrate it as API as well within your products. You can also embed generated audio files on your website.
Getwoord also comes with a pre-generated audio files library which is useless. I have no idea for what purposes user need these generic generated voiceover files except for listening voice samples.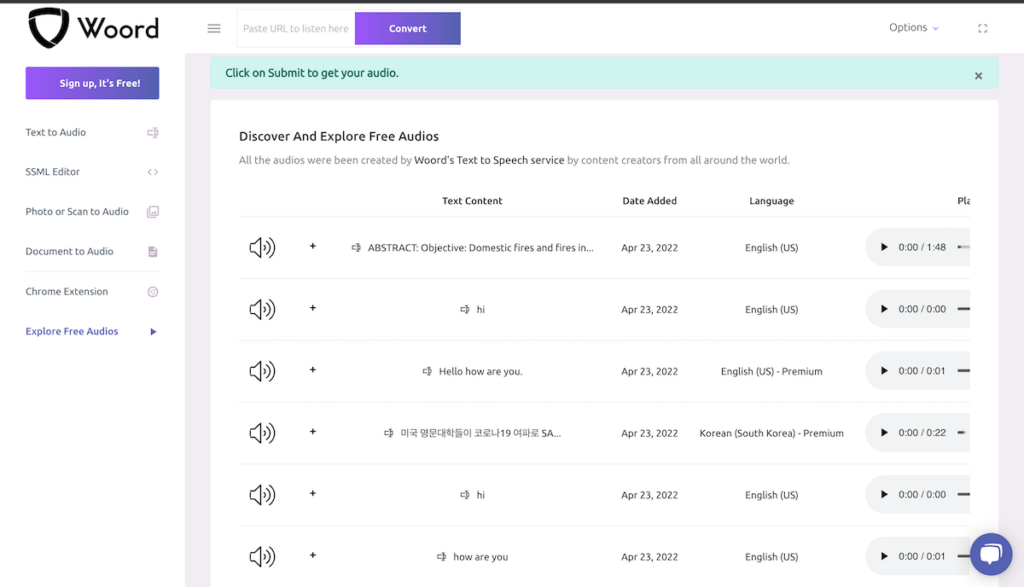 Click the play button to listen to getwoord voice samples.
Woord Pros
OCR Reader: Woord comes with an OCR reader. Basically, you can upload pictures and it can transform that picture into speech. Along with this, you can also upload documents such as pdf, txt, doc, pages, etc.
Chrome Extension: Woord also comes with a chrome extension. This chrome extension can help you to improve your productivity if you are reading a lot online. Chrome extension can help you to transform written content into speech and as we all know speech is easier to listen to than reading.
API access: You are also getting API in the paid plans however your access is limited to only 50audio/month (Basic $24.99/month plan) In the Pro ($99/month) your limit is 100audio/month. I think this isn't fair.
Woord Cons
Expensive: I think expensive is not the right word for woord. They have super expensive plans that start from $24/month. Here is current woord pricing.
Free
$0/moth
---
2 Audio files per month

20000 Character/month

50 Voices

SSML Editor
Chrome Extension
Basic
$24/month
---
50 Audio files per month

50000

0 Characters per month

50 voices

28 languages
SSML Editor
Chrome Extension
Audio Joiner
Pro
$99/month
---
Unlimited Audio Per month

Unlimited Character per Month

50 voices

28 languages

SSML Editor

Chrome Extension

Audio Joiner
Only 50 languages: Although they are charging very high price for their service but still you are getting only 50 languages inside their plan. They haven't mentioned the exact languages that you are getting. Inside the MicMonster you are getting 60 unique languages and 129 if you include accents, for example, the English language comes with the USA, UK, India, Australia, and many more accents.
Voices Sound Robotic: Their voices are not supernatural. Listened to the above-embedded voice samples and now compare them with the following MicMonster voice samples. By the way, MicMonster's many voices come with voice Style (Sad, angry, cheerful, etc)
Voice Samples of MicMonster:
GetWoord Alternative
As you guess, MicMonster is definitely a better alternative to getWoord/ Woord. Micmonster not only sounds better Woord but it has more features and is more affordable as well.
Quarterly
$69
$39/qtr
Get 50% OFF
"50TODAY"
---
Unlimited Converts

140 languages

600+ Voices

12000 Characters per voiceover

Commercial license

Background Music Library

Advanced Editor
Annual
$299
$59.5/year
Get 50% OFF
"50TODAY"
---
Unlimited Converts

140 languages

600+ Voices

12000 Characters per voiceover

Commercial license

Background Music Library

Advanced Editor
Lifetime
$999
$399
Get 50% OFF
"50TODAY"
---
1 Million Chars/month
140 languages
600+ Voices
12000 Characters per voiceover
Commercial license
Background Music Library

Advanced Editor
MicMonster's one of best features is Advanced Editor. It can help you to create a next-level voiceover. Here is the advanced editor feature that lets you do that.
Advanced editor
MicMonster's cloud-based solution has an advanced editor lets take the text to speech it to the next level. The advanced editor lets you
Multiple Voices In Single Script
Want to Create dialogue audio, no worries inside advance editor you can assign a specific portion of the script to any voice.
Pronunciation Support
AI technology Sometimes mispronounces invented words. With Pronunciation, you can control how to speak specific Words.
We could not find words that Micmosnter miss pronounced. But we are still looking
Control Speed, Pitch, volume for specific sentences
Using the advance editor you can control pitch, volume & speed for a specific portion of the script.
Emphasize
Stress on words that are important to the context. You can draw graph to customize how much stress you want to put on words.
With all these features, you can produce Voiceovers like the following: