If you are looking to review of Talkia text to speech app then you are on the right page. Here I will share my opinion about talkia.
I will also provide you with information about price, upsells, voice samples, features, and alternative solutions as well.
So you don't need to make another search on google about Talkia. So as you know Talkia is software from Bryxen company who previously launched famous software such as Doodly, Toonly, Vidello.
What is Talkia Exactly?
Talkia is text-to-speech software that helps you create realistic-sounding, professional voiceovers that sound like authentic human voices. Talkia is a tool for video sales letters, educational videos, training videos, sales scripts, audiobooks, etc.
Talkia has over 102 voices in their Standard plan and over 404 voices in their Enterprise plan. They didn't mention the languages talkia support.
If you ask the talkia support team how many languages it supports you will get a reply like the following one.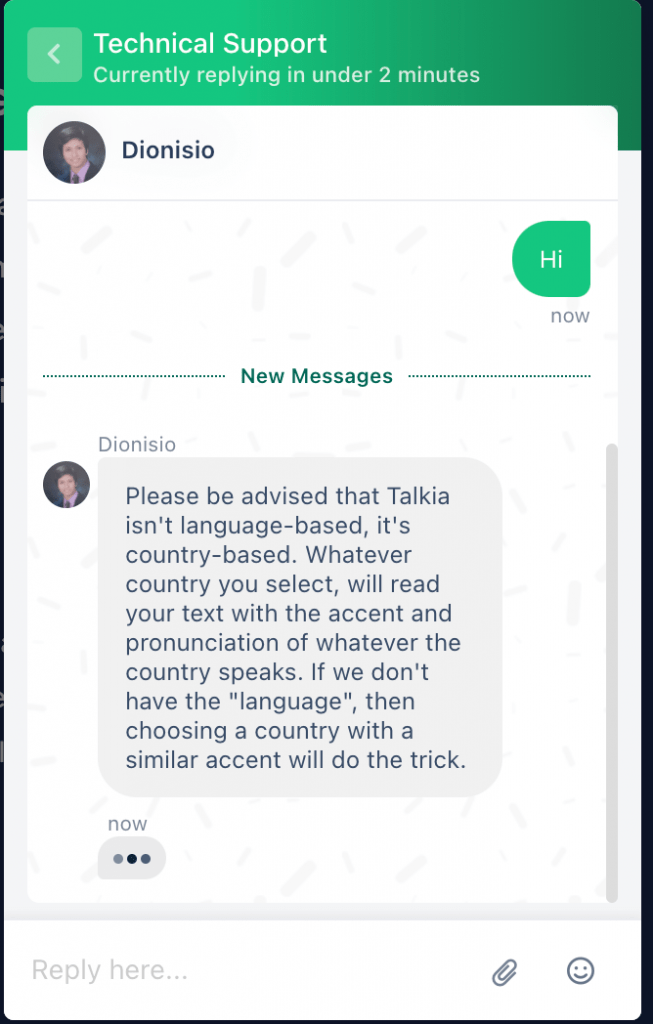 In countries like India where 121 languages are spoken, you can't use the same voices for all languages.
The bottom line is Talkia supports all major languages such as French, Hindi, Spanish, Arabic, Russian & more.
Unlike its competitors, talkia is a cloud-based software for Mac & Windows. it means you can't access it on a mobile phone.
Although Talkia is software still requires an internet connection and your files will be stored on Talkia cloud storage, not on your actual computer.
Here is the tutorial on talkia.
Talkia Voice Samples
Here are some voice samples of Talkia voices.
English (USA)
English (UK)
French
Spanish
Hindi
Talkia Pricing
talkia has two plans standard & enterprise. Here is the difference between both plans
| | Standard | Enterprise |
| --- | --- | --- |
| Voices | 102 | 404 |
| Background Music | 30 | 150 |
| Commercial Rights | No | Yes |
If you visit the home page of talkia you will see the price of $39 & $69 per month for the standard & enterprise plan.
I think you are familiar with the Talkia lifetime deal. You can get a standard version lifetime deal at just $67.
Once you purchase the standard version LTD they will offer you an enterprise plan as an optional upsell at $97/year.
Unlike the standard version, this isn't a one-time price. It is an ongoing yearly subscription. From my experience, you need an enterprise plan if you want to get the most out of talkia. Here at Micmonster, we offer a lifetime deal of front end & upsells.
Keep reading, I will share more details about Micmonster.
Talkia Pros & Cons
Pros
Non Robotic Voices: If you compare voices with old robotic voices then you will find out these voices are much better. English (USA) and Chinese voices sound best while others are a bit robotic.
Desktop Software: As I mentioned earlier talkia is a cloud-based software for mac & windows. Definitely having software is better than a cloud-based web solution.
Background Music: You will get background music tracks with talkia. Not only this, you can also add the track to your voiceovers inside the talkia.
Personally, I think this is the only area where talkia is better than Micmonster.
Cons
Here are the limitations that I found inside talkia
Not a lifetime deal: Although you can get the standard version at a $67 one-time payment however you are getting very basic features in this. For unlocking all features you have to upgrade on the enterprise.
The enterprise will cost you an additional $97/year. It is not available at a one-time price.
Doesn't Sound Natural: Although talkia voices sound better than normal computer-generated voices however I personally think it does not sound natural.
No Pronunciation support: AI always doesn't sound correct. it makes mistakes, especially with invented words.
Emphasize Stress: Talkia has the feature of putting stress on words while making voiceovers. However, I'm not very impressed with this feature.
It doesn't put good enough stress on words to notice the difference properly.
Only 1000 Characters Per Voiceover: You can only render 10000 characters at once. However, you can merge multiple audio files later on. But still, 1000 characters is a low number especially when you want to convert books into audiobooks.
On the other side, Micmonster allows you to transform 12000 characters at once.
MicMonster Alternative Solution
What If I told you about an alternative solution that not only sounds better than Talkia but affordable as well.
Micmonster not only sounds better than talkia but offers you so many features that talkia doesn't.
Voice Samples of MicMonster:
Advance editor
MicMonster's advance editor lets take the text to speech it to the next level. The advance editor let you
Multiple Voices In Single Script
Want to Create dialogue audio, no worries inside advance editor you can assign a specific portion of the script to any voice.
Pronunciation Support
AI technology Sometimes mispronounces invented words. With Pronunciation, you can control how to speak specific Words.
We could not find words that Micmosnter miss pronounced. But we are still looking
Control Speed, Pitch, volume for specific sentences
Using the advance editor you can control pitch, volume & speed for a specific portion of the script.
Emphasize
Stress on words that are important to the context. You can draw graph to customize how much stress you want to put on words.
With all these features, you can produce Voiceovers like the following:
Lifetime Deal: Unlike Talkia, Micmonster is available at lifetime deals, there are no going fees.
Here is the pricing of Micmonster.
MicMonster Standard $37
48 Languages
200+ Voices
3000 Characters Per Voiceover
One Project
Personal license
MicMonster Pro $97
Optional upgrade
48 languages

300+ voices

12000 characters per voiceover

Unlimited Campaign

Background music

Commercial license

Advance Editor (pronunciation, Word Emphasize )
Agency $297
Optional upgrade
Agency License
10 Sub users Account
Final Words
Text to speech industry is on a boom right now. In near future, you will see better voices.
Micmonster not only sounds better than talkia but is affordable as well. Over the period of time, we have made great improvements in the Micmonster.
Every time we update the tool we also increase the cost. So if you want to get a Micmonster at the lowest price then upgrade today.
Talkia is also good however you have to upgrade on the enterprise plan for more features and ongoing annual fees can't justify the cost.
Anyway, I hope you got value from this article, if you have any questions or queries then let me know by the comment section.