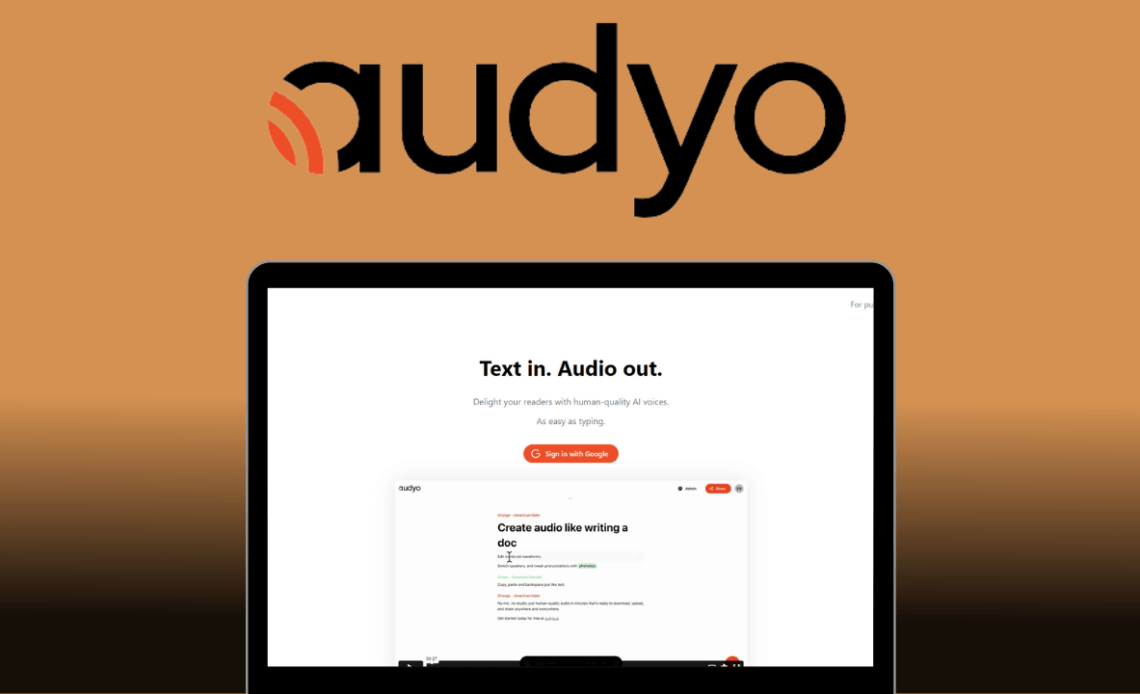 Audyo is an innovative AI-powered tool that allows users to create and edit high-quality, human-like voiceovers just by typing. With its intuitive interface and advanced text-to-speech capabilities, Audyo makes it easy for anyone to generate professional audio content for videos, podcasts, presentations, and more.
Explore the Comprehensive Directory of Text-to-Speech Tools to unlock the power of voice. Discover the finest solutions in our Text-to-Speech Tool Reviews, and for budget-friendly options, don't miss the Best Free Text to Speech Online guide.
Export Your Audio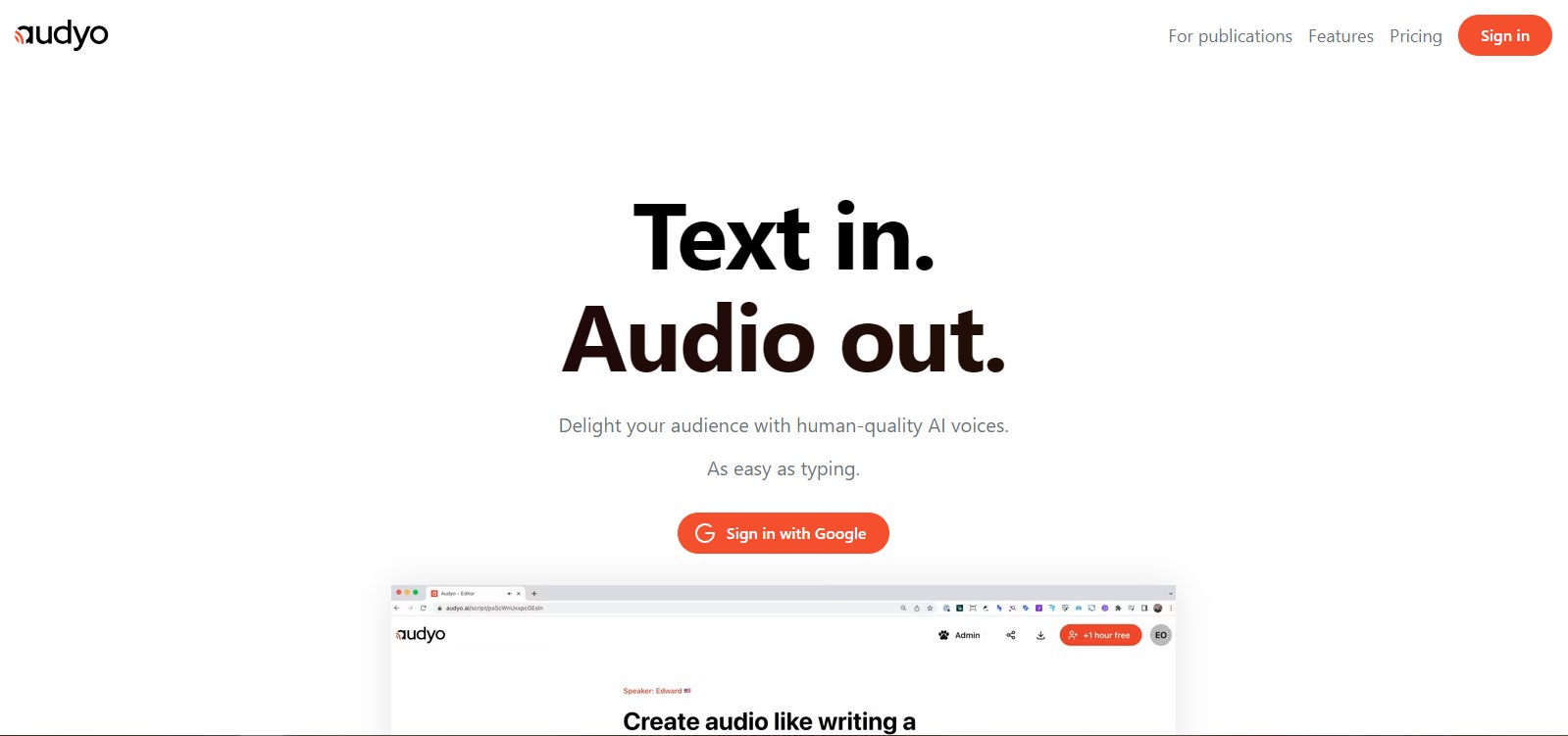 One of Audyo's standout features is the ability to instantly export your finished audio files. Once you've completed editing your script, a single click downloads the voiceover as an MP3 or WAV that can be effortlessly inserted into any project. Whether you need narration for a corporate video or voiceovers for a YouTube channel, Audyo lets you export studio-quality audio with no expertise required.
Create Conversations
Audyo also makes it simple to create realistic conversations. You can quickly swap between different speakers to generate dialogues or interviews. The advanced text-to-speech technology ensures the voices sound distinct with natural inflections. Bring your projects to life with multi-person conversations that capture the nuances of human interaction.
Mix and Match Languages
In today's global marketplace, multi-language content is a must. With Audyo, you can choose from dozens of languages and accents to produce voiceovers. Mix and match languages within a single script to create diverse, inclusive audio content. From English to Mandarin, the text-to-speech speaks your words fluently.
Create Custom Pronunciations
Audyo allows you to customize pronunciations down to the phonetic level. If the text-to-speech engine mispronounces a word, simply select it and update the phonetics. Tweak pronunciations until each word sounds perfect. The proprietary AI ensures accurate pronunciation for specialized terms.
Add Content From URL
Easily add content from online sources into your Audyo scripts. Simply paste any URL, and Audyo will pull the text. This makes it fast and convenient to create audio versions of blog posts, news articles, or other web content. AI ensures it's synthesized into a natural voiceover.
AI Audio Assistant
As you edit scripts in Audyo, AI suggestions help refine the text to sound more natural when spoken aloud. The AI Audio Assistant catches clumsy phrasing and proposes concise edits to improve flow. Saving time on revisions results in a polished voiceover.
Markdown Enabled
Audyo supports Markdown for adding structure to scripts. Use headings, lists, and dividers between sections. Even add code snippets that will be voiced verbatim. Markdown enables creating long, complex voiceovers with ease.
Frequently Asked Questions
Audyo is free to use with no credit card required. Sign up for an account to access the full suite of features. While it excels at English, Audyo supports voiceovers in dozens of global languages. Compatible browsers include Chrome, Firefox, Edge, and Safari. Overall, Audyo provides an exceptional audio creation experience for everyone from podcasters to marketers.
How to Use Audyo Review – Create and Edit Human-Like Voices
Audyo is revolutionizing audio content creation with its groundbreaking text-to-speech capabilities. Here is a step-by-step guide to using Audyo's intuitive interface to produce high-quality voiceovers:
Sign Up for an Account
Go to Audyo.ai and click Sign Up in the upper right. You can register quickly using your Google account. The basic account is free.
Write Your Script
Once signed in, you will be taken to the editor. This is where you type the voiceover script. For best results, write conversational content with short sentences. You can also paste text from other sources.
Select a Voice
On the right side, you can choose your voice from dozens of options. Pick genders, accents, languages, and more. Listen to samples to choose what fits your project best.
Edit the Script
Use the editing tools to refine your script. Break content into sections using headings. Swap between speakers for conversations. Tweak pronunciations with phonetics. The AI assistant suggests optimizations.
Generate the Voiceover
When your script is ready, click the Play button to have Audyo synthesize the voiceover. Listen to the entire audio to ensure it sounds polished. Make final edits as needed.
Export the Audio
Finally, export your voiceover by clicking Download. The file can then be imported into any video, podcast, or presentation. Share your professional audio content worldwide.
In just minutes, you can create incredible voiceovers with Audyo. The advanced technology makes audio production easier than ever, no matter your experience level.
5 FAQs About Audyo – Create and Edit Human-Like Voices
Audyo is an innovative text-to-speech tool gaining popularity for its ability to generate human-like voiceovers through an intuitive typing interface. Here are answers to 5 of the most frequently asked questions about using Audyo:
How accurate is the text-to-speech? Audyo utilizes cutting-edge AI to synthesize speech that sounds very human. While not 100% perfect, accuracy is constantly improving with further development.
Can I create voiceovers in languages besides English? Yes, Audyo supports dozens of global languages including Spanish, Mandarin, Hindi and more. You can even mix languages.
Does Audyo work on mobile devices? While Audyo is optimized for desktop, the web interface works on mobile browsers like Chrome and Safari. Some features may be limited.
How are the voices created? Audyo uses generative AI models to synthesize voices. Real human voices are used for any final polish but are not directly cloned.
Is a subscription required? No subscription is needed. Audyo is free to use. Additional pro features are available as one-time purchases.
Whether you are creating a podcast, marketing video or audiobook, Audyo provides an easy yet powerful platform for generating custom voiceovers through intuitive text editing.