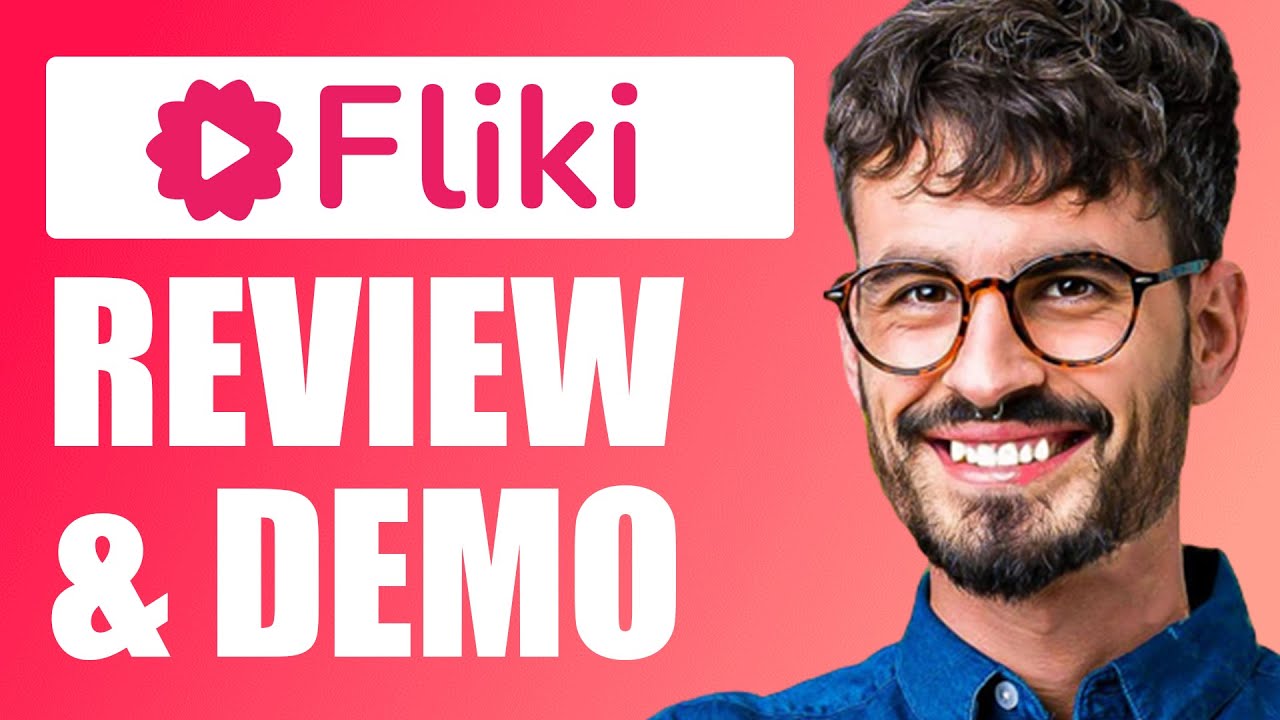 As a content creator, I know how time-consuming and tedious it can be to create high-quality videos. That's why I was excited to try out Fliki, a video creation tool that promises to simplify the process using AI technology.
If you are looking for a best free text-to-speech online that can help you create high-quality natural-sounding speech, be sure to check out our guide. See more tts tool review. Don't forget to learn more about MicMonster – AI Voice generator online
Fliki Product Features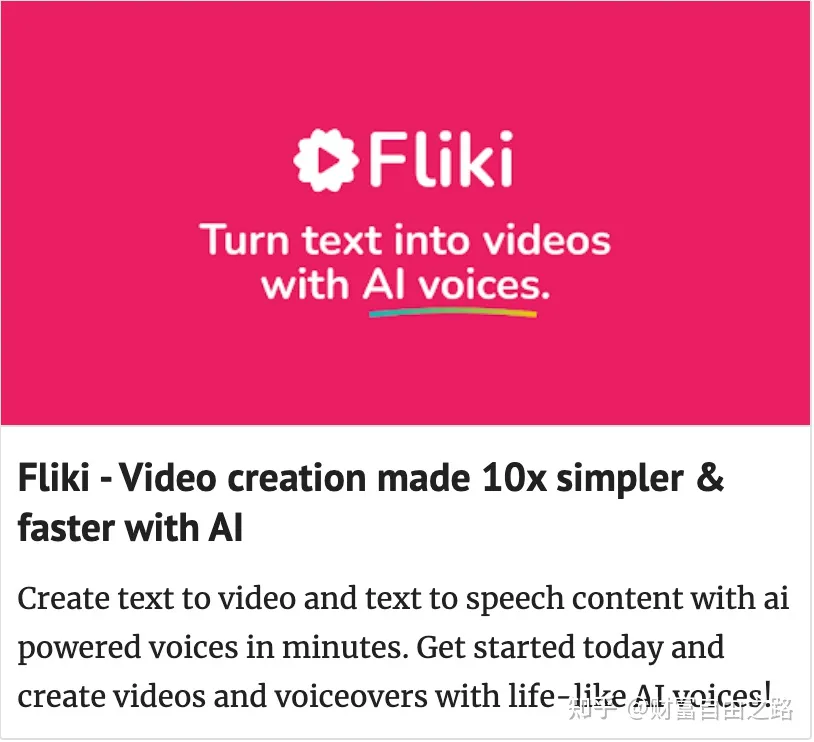 Fliki is an online platform that allows users to transform their ideas into stunning videos with lifelike voiceovers in just minutes. Here are some of the features that make Fliki stand out:
Simple Editor: Fliki's script-based editor makes creating videos as easy as writing an email.
Fast Creation: With AI-powered voiceovers, you can create videos in minutes.
Cost-Effective: Create high-quality content at scale at a fraction of the cost.
Extensive Stock Library: Access millions of rich stock media for all your creative needs.
Realistic Text-to-Speech Voices: Fliki offers over 2000 Text-to-Speech voices across 75+ languages.
Seamless Workflow: Preview your creations instantly and perfect them in no time.
Personalized AI Voice: Choose and personalize your AI voice to suit your brand.
Discover Effortless Content: Create stunning videos in just four simple steps.
Captivating Videos: Transform your ideas into captivating videos that engage your audience.
Impactful Content: Create impactful video and audio content for every use case.
My Experience with Fliki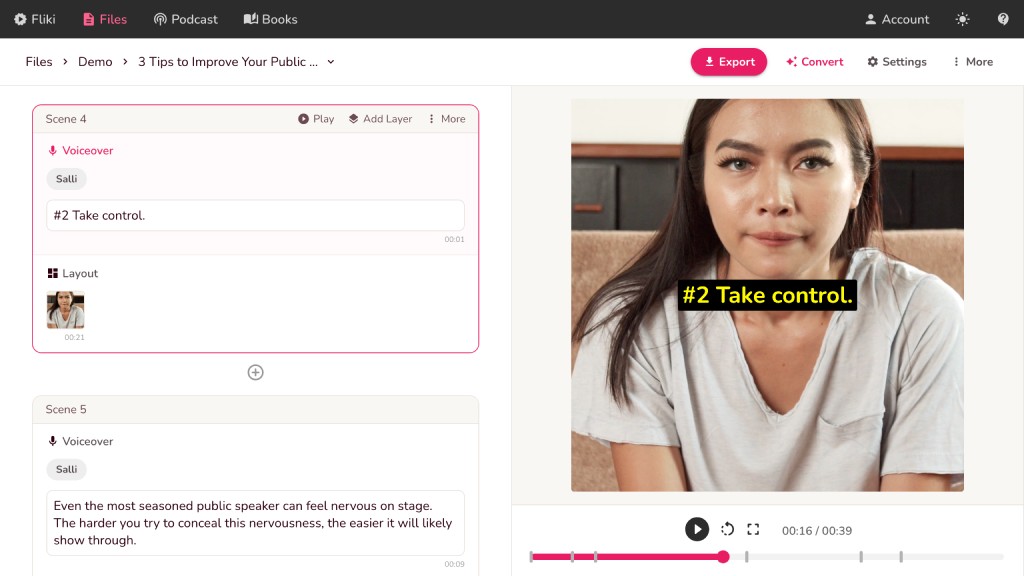 I was impressed with how easy it was to use Fliki. The interface is clean, intuitive, and user-friendly. I started by inputting my text, which could be anything from a blog post to tweets. Then I chose my AI voice, which had a plethora of options available in various languages.
Once I selected my AI voice, Fliki generated a lifelike voiceover in seconds. I was amazed by how natural and professional the voice sounded. After that, I selected my media from Fliki's extensive stock library or let AI create something for me.
Finally, I previewed my creation and made any necessary adjustments before downloading it in various formats. I found the workflow smooth and seamless, and I was able to create high-quality videos in just minutes.
Fliki Product Price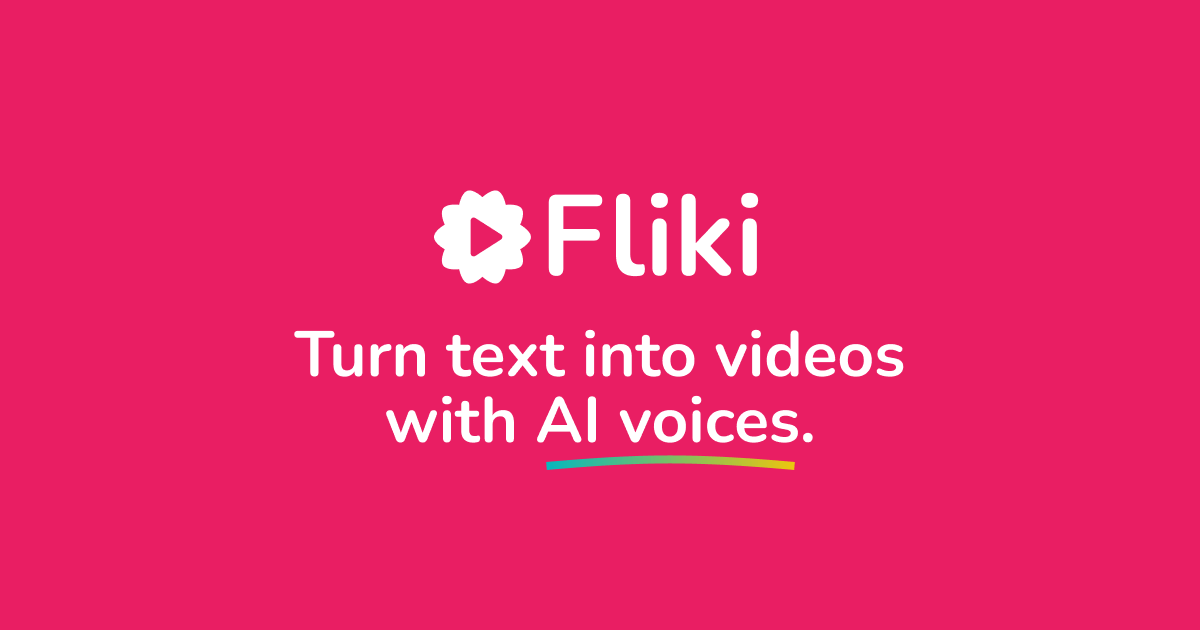 Fliki offers a free tier that allows users to explore text-to-voice and text-to-video features without any cost. You can generate 5 minutes of free audio and video content per month. For more advanced features and unlimited usage, Fliki offers paid plans starting at $29/month.
Pros and Cons of Fliki
Some pros of using Fliki are:
Simple and user-friendly interface
AI-powered voiceovers sound natural and professional
Extensive stock library available for all creative needs
Cost-effective compared to hiring voice-over artists
Fast and efficient workflow for creating high-quality videos
However, there were also some cons that I noticed while using Fliki:
Limited customization options for visuals
Some glitches and bugs while using the platform
Limited number of free minutes available per month
Expert Advice on Using Fliki
As someone who frequently creates video content, here are some expert tips for using Fliki effectively:
Plan your script ahead of time to make the most out of Fliki's simple editor.
Choose an AI voice that matches your brand's tone and personality.
Use Fliki's stock library to enhance your visuals and make them more engaging.
Preview your creations multiple times before finalizing them to ensure that they meet your quality standards.
Test out the free tier of Fliki before committing to a paid plan to see if it fits your needs.
Combine Fliki with MicMonster – AI Voice generator online:
Fliki is an online platform that offers a wide range of user-friendly tools to help individuals and businesses in creating engaging, interactive, and visually stunning presentations, videos, animations, and infographics. On the other hand, MicMonster is an AI voice generator software that enables users to convert any text into high-quality realistic speech.
By combining Fliki with MicMonster, users can create immersive multimedia content with realistic human-like voices that can captivate and engage their audience. This combination offers numerous benefits for different applications such as e-learning, marketing, entertainment, and more.
Here are some of the key advantages of using Fliki and MicMonster together:
Enhanced engagement: With MicMonster's AI-generated voices, users can add a new level of interactivity and immersion to their content. This makes it easier for learners to stay engaged in eLearning courses, increases brand awareness and conversions in marketing campaigns, and creates an unforgettable experience for viewers in entertainment media.
Time-saving: By automating the voice-over process with MicMonster, users can save time and effort spent on recording and editing voice-overs manually. This allows them to focus on creating visually impressive and informative content using Fliki's range of features.
Cost-effective: Outsourcing or hiring professional voice-over artists can be expensive and may not always guarantee the desired quality. However, with MicMonster, users can generate high-quality voices at a fraction of the cost and without any compromise in quality.
Flexibility: Fliki and MicMonster offer flexibility in terms of customization and integration. Users can choose from various voice styles, accents, and languages available in MicMonster's library, and customize the generated voices according to their needs. They can also integrate the Fliki-MicMonster combination with other tools and platforms for seamless workflow.
User-friendly: Both Fliki and MicMonster are designed to be user-friendly, making it easier for users with little or no technical knowledge to create outstanding multimedia content. Fliki offers intuitive drag-and-drop features and a simple interface, while MicMonster's text-to-speech process is straightforward and requires minimal effort.
Overall, combining Fliki with MicMonster can offer a powerful toolkit for creating engaging and high-quality multimedia content with realistic human-like voices. Whether you're a marketer, educator, or content creator, this combination can help you elevate your productions and stand out in today's competitive digital landscape.
Voice Samples of MicMonster:
Advanced editor
MicMonster's cloud-based solution has an advanced editor lets take the text to speech it to the next level. The advanced editor lets you
Multiple Voices In Single Script
Want to Create dialogue audio, no worries inside advance editor you can assign a specific portion of the script to any voice.
Pronunciation Support
AI technology Sometimes mispronounces invented words. With Pronunciation, you can control how to speak specific Words.
We could not find words that Micmosnter miss pronounced. But we are still looking
Control Speed, Pitch, volume for specific sentences
Using the advance editor you can control pitch, volume & speed for a specific portion of the script.
Emphasize
Stress on words that are important to the context. You can draw graph to customize how much stress you want to put on words.
With all these features, you can produce Voiceovers like the following:
Conclusion
Overall, I had a great experience using Fliki. It's a powerful and cost-effective tool that simplifies the video creation process using AI technology. While there are some limitations, Fliki is an excellent option for content creators who want to create high-quality videos quickly and easily.