Hello there, Let me guess you are here to know more about this new software Speechor right?
Then you have reached the right place! Today in this article, I am going to list out:
Then, let's not waste any more time and dive into this honest review on Speechor.
What exactly Speechor is?
Speechor is text-to-speech software that can help you convert your text into human-sounding voices. Isn't that interesting? It provides you with voices for videos like news reporting, educational or training videos, documentaries and promotional videos.
Now, you would be thinking if the process of converting your text into voice is complicated or not. Well, the answer is no. It takes only 3 simple steps:
Paste your desired text
Select any voice from their list
Then click on the button saying "Save speech," and you'll have your voice-over ready.
Now, let's discuss the different languages Speechor has to offer. There are about 33 languages that Speechor provides:
Arabic, English (Australia), English (US), Spanish (Spain), Spanish (US), German (Germany), English (UK), English (India), French (Canada), French, (France), Hindi (India), Indonesian (Indonesia), Mandarin Chinese, Mandarin Taiwan, Czech (Czech Republic), Greek (Greece), Finnish (Finland), Filipino (Philippines), Hungarian ( Hungary), Italian (Italy), Japanese (Japan), Korean (South Korea), Norwegian (Norway), Dutch (Netherlands), Polish (Poland), Portuguese (Brazil), Portuguese (Portugal), Russian (Russia), Slovak (Slovakia), Swedish (Sweden), Turkish (Turkey), Ukrainian (Ukraine), Vietnamese (Vietnam).
Main features of Speechor
Has about 133 Artificial intelligence videos
Has 33 languages
Background music is available.
Has an online text editor
Control's volume and rate – The speed and pitch of the voices can be easily edited.
Emphasis on the sentences – You can easily emphasize the text to change the voice tone.
Things that I like about Speechor
Voices are good and do not sound like robots.
There are no upsells or an upgrade. You get all the voices within the money paid.
A huge variety of background music is available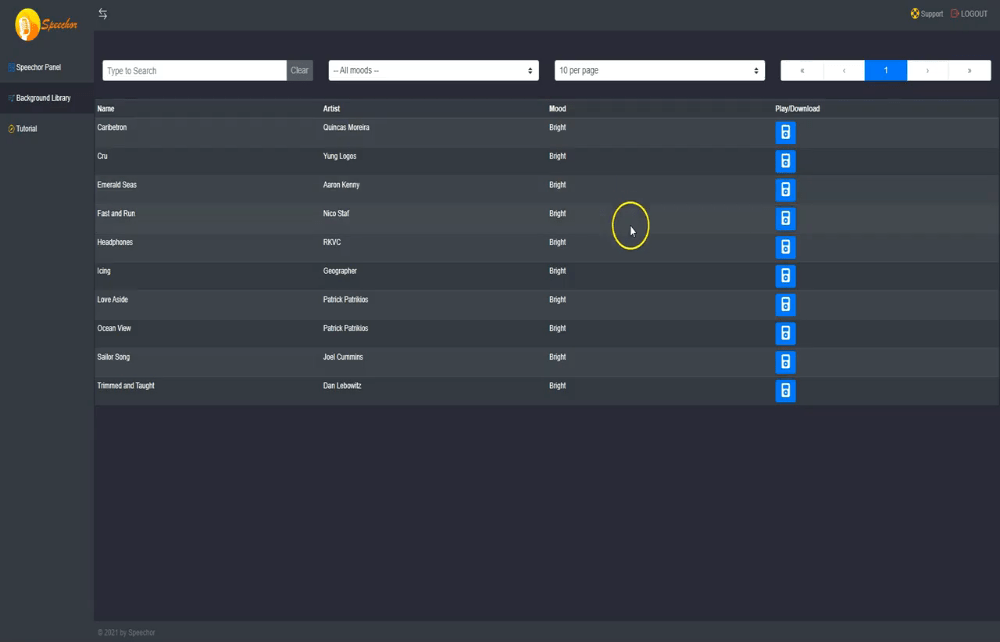 Their support service is very active and not ignorant
Things that I don't like about Speechor
There is no preview available for text-to-speech rendering. It is quite time consuming how you have to save each and every recording and then test it. A preview button would have made things a lot better.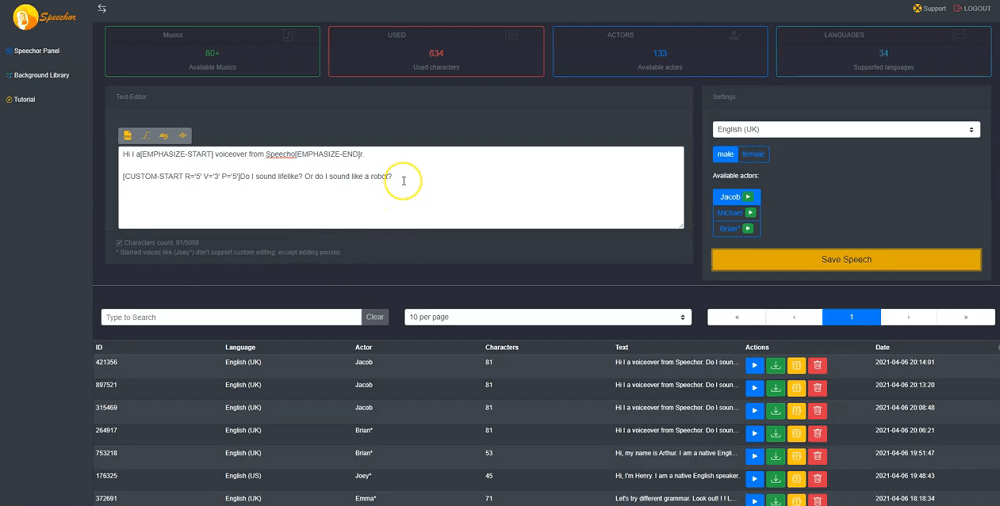 They can make you login again and again, which might interrupt your work by deleting anything that you have in the text box. Making it more time-consuming.
You can't make the changes in the voices as they claim, and this really is frustrating when the voice is edited through their editing tool. It shows an error while saving the recording.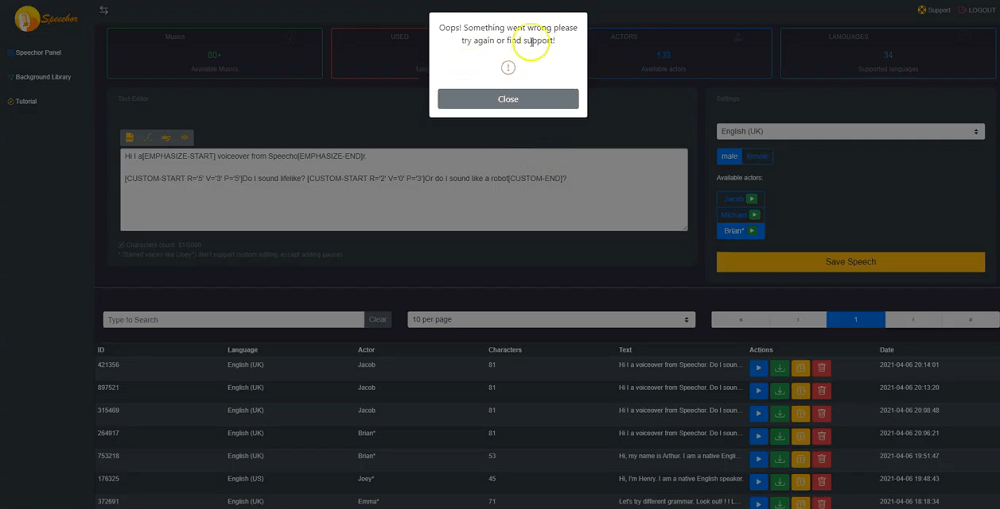 Also, the whooping number of background music they have in their library. It is practically useless when you try to use them in your text recordings.
Their training is very poor, as they don't have good training videos for beginners.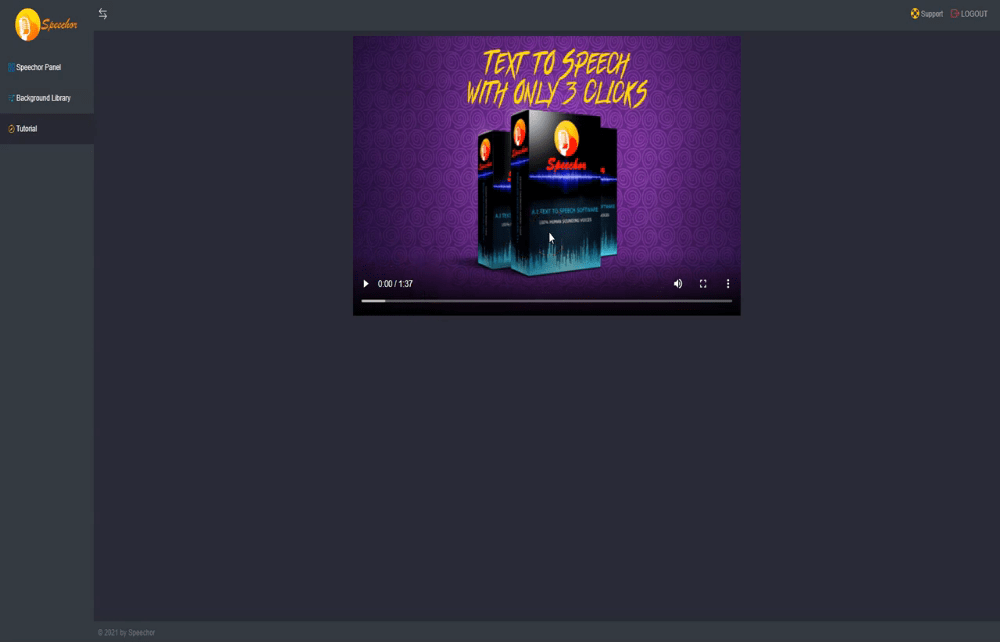 The last thing that I don't like about Speechor is their refund policy which only states a partial refund and might charge you $4 for cancellation of the account and other fees for storage, security, hosting, support and privacy protection.
Pricing and OTO
The overall pricing of Speechor is only $47, and there are no upsells. This means that you are going to get this whole software with all the voices for just $47.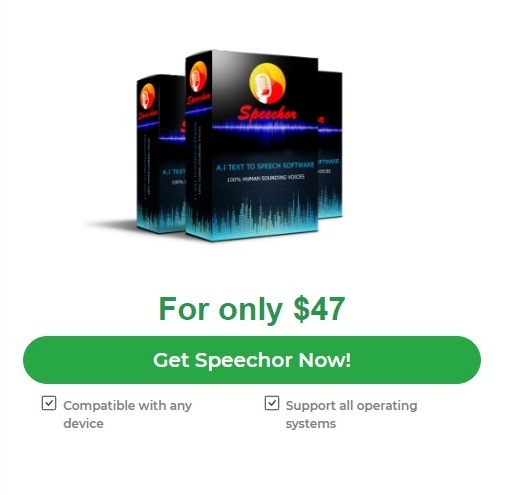 Features that come with this Pro version are:
$0 monthly fees
No upgrades needed
34 languages
133 Pro Voices
90+ Pro music
Free commercial rights
Full broadcast rights
Voices of Speechor
1. US English Male
2. Italian Female
3. Danish Female
4. Polish Male
5. Norwegian Male
Alternative Solution
The alternative solution that I would like to recommend is MicMonster. This amazing software has everything Speechor doesn't and more than what Speechor has.
This software is available for just $27 and also has no upsells, and has over 48 languages!!
Voices of MicMonster
Quarterly
$69
$39/qtr
Get 50% OFF
"50TODAY"
---
Unlimited Converts

140 languages

600+ Voices

12000 Characters per voiceover

Commercial license

Background Music Library

Advanced Editor
Annual
$299
$59.5/year
Get 50% OFF
"50TODAY"
---
Unlimited Converts

140 languages

600+ Voices

12000 Characters per voiceover

Commercial license

Background Music Library

Advanced Editor
Lifetime
$999
$399
Get 50% OFF
"50TODAY"
---
1 Million Chars/month
140 languages
600+ Voices
12000 Characters per voiceover
Commercial license
Background Music Library

Advanced Editor
Final Words
There was an Honest review about Speechor. I hope you find this review helpful. To sum it up, This software is not up to my expectations because it has many limitations rather than advantages.
I would like to recommend MicMonster rather than Speechor. As MicMonster has various features with 44 languages, a 30-day refund policy and much more!
Now it's your turn to decide which to choose!