Speechify app is launched in 2020 to help people boost their reading speed and people struggling with ADHD, Delxya, and other focus problems.
Speechify app is available for both Android and iPhone users. You can also use their chrome extension. They have a cloud-based solution as well but not so great.
In this blog post, I will not only share speechify alternatives but I will also share a couple of reasons why you should look for alternative solutions. Here are reasons
Price: You will never know the pricing unless you don't subscribe to their 3-day trial (Is Speechify free?). They haven't mentioned the price anywhere else. I have subscribed and find out their price is $139/year.
Some users claim that speechify deducted money from their account as soon they started their free trial.

This happened to me too

. I think the reason behind it is card type. If you are using MasterCard then money will be deducted from your account as soon you start your free trial. However, I'm not sure about it. Here are some other users complaining the same thing.
Limited voices: Except English region you are getting only a few voices only a max 2. There are only 30 languages available. On the other side, its Alternative MicMonster supports 60 unique languages and 129 accents of popular languages.
If you also don't like speechify due to the above two reasons and looking for alternative solutions then you are on the right page.
Here is the list of its best alternative.
MicMonster: MicMonster is one of the best AI voiceovers available online. Unlike speechify, it is free to sign up. While writing this article we don't offer any subscription it is available at a one-time price.
Currently, MicMonster is a cloud-based solution that can be accessed from any device. Our team is developing app for both IOS and iPhone users.
Inside the app, you can upload documents, and images or take photos with the camera to transfer them into speech.
You are also getting a book reader to enhance your productivity. Here is the screenshot. Benefits of choosing MicMonster over speechify.
Download separate Audio file
Better & More voices (600+ voices)
140 languages
Voice Styles (Sad, Cheerful, Angry) For Certain voices in English (USA), Portuguese, Japanese, French and Chinese language.
Child voices for English, Chinese and French language.
The best thing is it have FREE version for you to try. If you want a cloud-based solution then you have to wait because app development will take a few weeks.
Here are the some voice samples.
Voice Samples of MicMonster:
VoiceAloudReader: Another popular app available in the app store that can help you in reading. This app is also free to sign up. You can upgrade on paid plans if you want to unlock all the features.
Free plan voices sound too robotic. Like speechify, you can upload take photos with a camera or add them from the gallery. VoiceAloudReader has two paid plans.
Pro $11/one time
Pro+Premium voices $12/month
In the pro plan, you will get the following features
Remove Ads
Background Playback
Upload docs, doc or pages file
Custom fonts (Epubg files)
Offline mode (Listen offline)
IN the pro+premium plan you will get the following features.
Premium voices
Every in the pro plan
I can't recommend a pro plan. If you are going with VoiceAloudReader then it will be best if you go with Pro+premium voices. There are total of 28 languages available inside this app. The sad part is you are not getting premium voices for many non-English languages. In fact, you are getting premium voices only for these languages
English
French
Italian
German
Portuguese
Spanish
For the rest of the languages (Arabic, Chinese, Czech, Danish, Dutch, Finnish, Greek, Hebrew, Hindi, Hungarian, Indonesian, Japanese, Korean, Norwegian, Polish, Romanian, Russian, Slovak, Swedish, Thai, Turkish) you are getting robotic-sounding voices.
The app dashboard also isn't appealing like speechify. In case you are looking for affordable then this app might be perfect for you.There are hundreds of apps available in both play and the app store.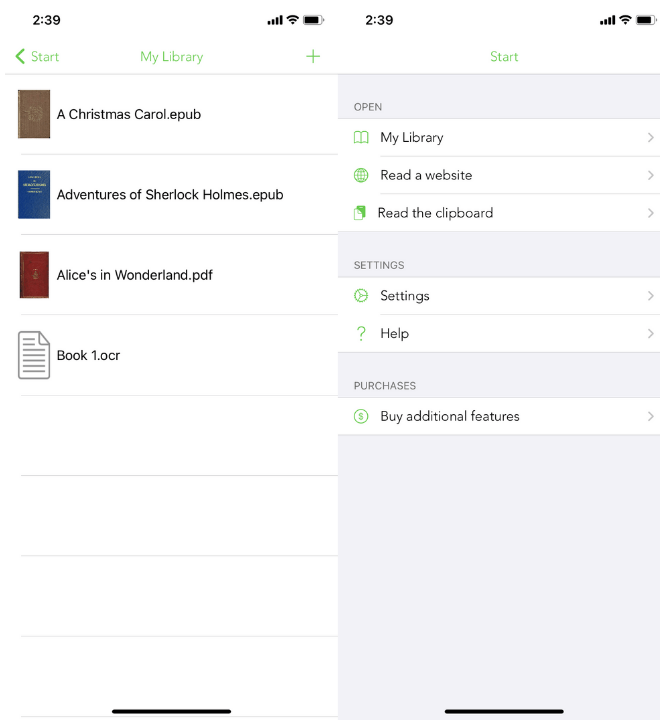 However, when I check the quality none of them was good enough. Most of the apps are using system build-in text to speech instead of offering some natural sounding voices.
That's why I don't want to include these apps in this list. The last thing I want you to waste time on useless apps that don't offer any value.If you think I miss an amazing app then let me know by the comment section. I will happy to update the list.
Details Review of Speechify