Remember the days when the text to speech used to sound robotic. We come far away from that all thanks to AI. Now text to speech can be used for other things except IVR.
Speechelo is one of the kinds of software that become popular in recent years. However, speechelo isn't the only product that can transform your text into natural sound speech. Here I will share speechelo alternative list. Some of them sound more natural than Speechelo.
However, before I provide you alternative list let me share a couple of reasons why you should look for an alternate product let me share a couple of reasons why you should go with alternative product.
1. Expensive: Speechelo pro is an optional upsell that will cost you $47/quarterly. Without this upsell you won't be able to get the best out of speechelo. MicMonser is available at one-time fees and you can try it for free.
2. Low bit rate: The voiceover generated by speechelo has a bit rate of 32 kbps. In simple words, the higher the bit rate better the quality. This bit rate is low that you will find glitches in the audio if you try to listen to a louder voice. MicMonster provide 320 kbps bit rate audio files.
3. No Voice Style: You are getting a friendly, serious, and normal tone for a few voices. Having only 3 tons is not good enough.
4. Breathing and Emphasize are only available for standard voices: You get two tts engines inside speechelo standard and AI. Standard sound robotic. However, you can add breathing and emphasize words. However, these options are not available for AI voices which makes them useless.
Now let me provide you list of Speechelo alternatives.
Micmonster
Micmonster is New AI voiceover tool that can transform any text into human sounding voiceover. It is better than speechelo is every area. It has better voices and it is also affordable.
Micmonster also lets you control your voice style (Cheerful, Empathetic, chat, etc) for the USA English language. It supports 129 languages, and it has 500 voices.
Here is the video of voice samples.
Voice Samples of MicMonster:
If you go with the Pro plan then you will unlock advanced editor that let you customize voiceover in a lot of ways.
Advanced editor
MicMonster's advanced editor lets take the text to speech it to the next level. The advanced editor lets you
Multiple Voices In Single Script
Want to Create dialogue audio, no worries inside advance editor you can assign a specific portion of the script to any voice.
Pronunciation Support
AI technology Sometimes mispronounces invented words. With Pronunciation, you can control how to speak specific Words.
We could not find words that Micmosnter miss pronounced. But we are still looking
Control Speed, Pitch, volume for specific sentences
Using the advance editor you can control pitch, volume & speed for a specific portion of the script.
Emphasize
Stress on words that are important to the context. You can draw graph to customize how much stress you want to put on words.
With all these features, you can produce Voiceovers like the following:
Price:
Quarterly
$19/qtr
(Renew $37/qtr)
---
Unlimited Converts

140 languages

600+ Voices

12000 Characters per voiceover

Commercial license

Background Music Library

Advanced Editor
Annual
$60/year
(Renew $120/year)
---
Unlimited Converts

140 languages

600+ Voices

12000 Characters per voiceover

Commercial license

Background Music Library

Advanced Editor
Lifetime
$134
One time payment
---
1 Million Chars/month
140 languages
600+ Voices
12000 Characters per voiceover
Commercial license
Background Music Library

Advanced Editor
Notevibes
Notevibes is another text to speech similar to the speechelo. From their landing page, it looks like they have copied the speechelo landing page.
You are getting the same voices that you are getting inside the Speechelo. Here are the voice samples.
Notevibest editor is quite better than Speechelo. Basically, you can emphasize words, control volume for a specific portion of the script, etc. However, it is more expensive as well. Here is the pricing of Notevibes.
Personal Pack
Personal usage: only, Private listening, personal e-learning
---
100k Characters per month
201 Premium voices
18 languages ( EN, DE, ES, FR, VT, RU, PT, IT, NL, TR, JP, KO, HI and etc)
MP3 Download
COMMERCIAL PACK
Commercial Usage: Youtube, Broadcast, tv, IVR Voiceover, etc.
---
1 Million Characters per month
201 Premium Voices

18 languages ( EN, DE, ES, FR, VT, RU, PT, IT, NL, TR, JP, KO, HI and etc)

MP3, Wav Download
Advanced voice editor
SSML tags support
If you go with the annual plan then you can get 20% discount. It feels like speechelo is an alternative to Notevibest instead of Notivibes alternative to speechelo. Notevibes price is ridiculously high.
You can get a lifetime deal of notevibes on stacksocial at $69. However, you will not get a commercial license inside this. It is a lifetime deal of their personal pack.
Amazon Polly
Have you thought about it, If Speechelo and Notevibes are offering same voices then what service in the backend they are using? Both products are using amazon Polly which is text to speech service from amazon web services.
You can get amazon Polly at way cheaper than speechelo and notevibes. Amazon Polly is available on a pay-as-you-go, model. For 1 million characters you have to pay only $16. Polley also provide API service that's how speechelo and notevibes are able to integrate their voices.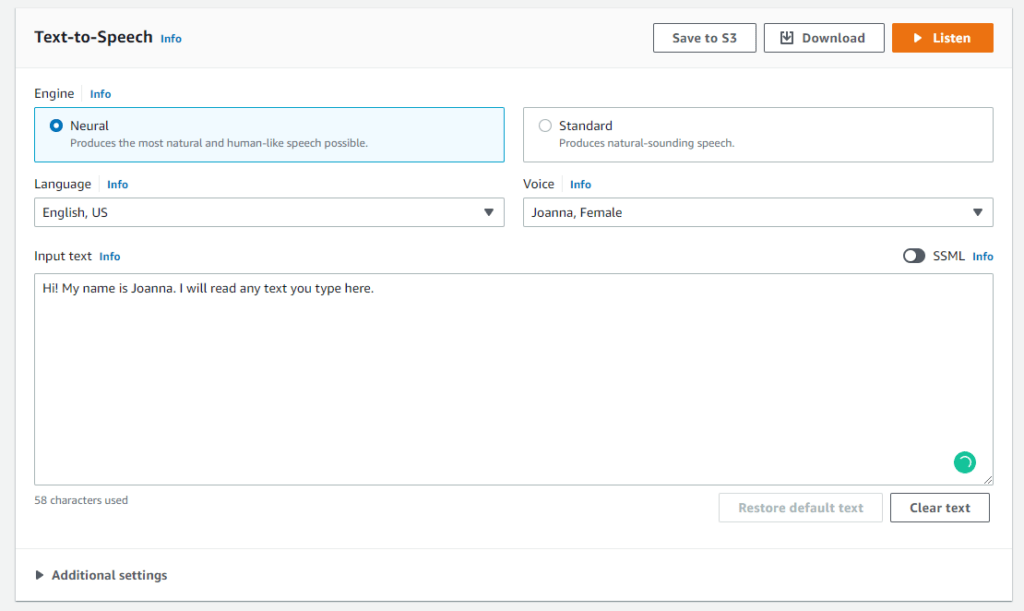 The signup process can be complicated for you if you are not a tech guy. Aws will charge you money at the end of the month depending upon your usage.
Amazon locked some voices depending upon the region you have selected. For example, if you select the Ohio region then you can't use natural voices. So I switch to N. Virginia region, in this region, I can't access some languages for example danish, dutch, Chinese, etc. So you need to switch regions to access all languages, which makes it a bit annoying.
Naturalreaders
Naturalreaders exist in the market from several years even before speechelo. You can use naturalreaders for free without creating an account.
However, it sounds quite robotic. I haven't checked their paid plans voices. Its paid plans are quite expensive starting from $9.99/month.
If you are comfortable with robotic voices then you can use this software otherwise try alternative options.
Anyway, here are voice samples.
ttsreader
This is another platform that you can use for free. Unlike naturalreaders it also offers ads. Its voices are also sound quite robotic.
However, it has more voices and it supports more languages as well. ttsreader also made apps for android & iPhone users.
Inside the ttsreader you can also transcribe meaning convert audio into text.
Here are the voice samples of ttsreader
typecast
This is another program that you can use for converting text into voice. Typecast also offers you a free plan however you need to create an account.
It paid plans are very expensive based upon monthly subscription starting from $14.99 per month.
It is one of the best free versions that you can try however it is still found quite robotic.
play.ht
play.ht is another text-to-speech solution that is quite famous. Mainly people use it for converting blog post into voice.
Probably you have seen audio file on many blogs if you prefer listening over reading.
You can automatically place audio on top of the blog using their WordPress plan. However, it is quite expensive. They don't have free plan.
You can purchase one time at a fixed cost $60 for 100000 words. There are also annual plans available starting from $90/year.
However, you are not getting unlimited characters. With their most expensive plan, you can get 1,200,000 words that will cost you $640 per year.
Here are voice samples.
cereproc
This is another platform that you can try. It sounds quite better than all listed platforms except micmonster.
Unlike other platforms cereproc subscription is quite different. You can buy one voice only. You can buy more however there is no plan to buy in bulk.
The price depends how you want to use the voice personal or commercial. Obviously, commercial license will cost you more money.
The price is available in Euro. The commercial license will cost you £25.99 and the Commercial will cost you £299.99
They also allow you voice cloning at £500. cereproc is good however the only problem is price. As you can see it is quite expensive.
Final Words