MicMonster vs LOVO is a popular AI-powered voiceover tool with features to create high-quality voiceovers for various projects.
As more firms and individuals seek to make engaging audio content, choosing the right tool can make all the difference in the success of their projects.
In this comparison, we will explore the essential criteria of both tools. Let's check it out!
An Overview of MicMonster and LOVO
MicMonster and Lovo are both AI-powered text-to-speech engines. MicMonster offers a variety of languages and does not need users to download a voice pack. So with this tool, everything is instantly loaded from its servers.
Regarding Lovo, it is an AI voice generator that saves users time and budget by providing advanced AI-generated voices. With the free trial, users can try the full power of Lovo technology for premium results.
Overall, they are great tools, providing users with high-quality audio content. So which is better? And which one should you choose for your needs?
Read on for the answer!
Compare MicMonster vs LOVO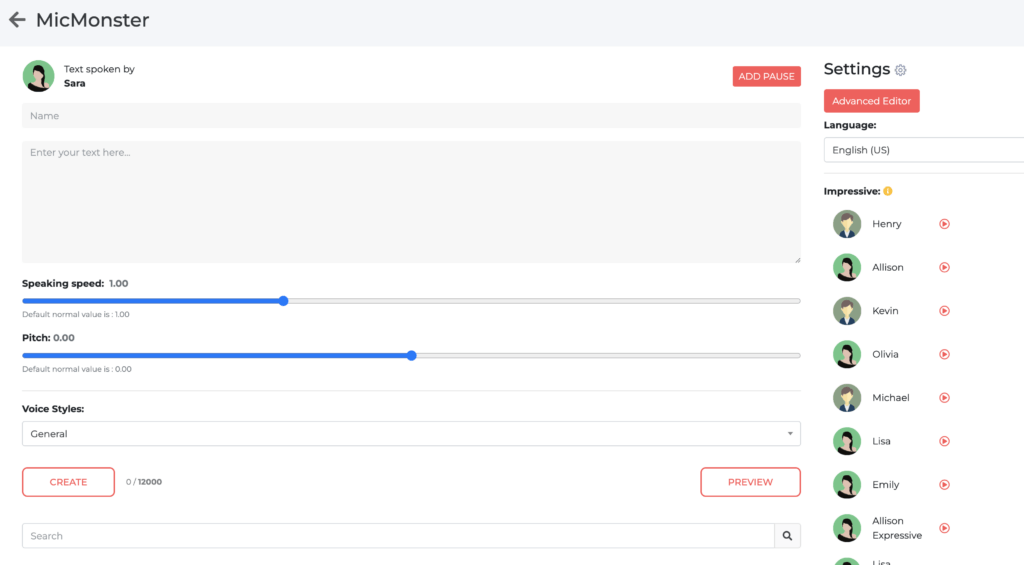 Compare
We have tested and compiled several criteria to compare these two tools. So let's see which is for you!
Voice Quality
It is hard to compare the voice quality of these two tools. Each has its features that serve different goals.
MicMonster sets itself apart from other text-to-speech engines in quality. Voices are natural and lifelike, with balanced pitches and background noise.
Besides, it ensures that every aspect of the voice is balanced, making a smooth and realistic sound. Also, users have access to many different languages. They are loaded instantly from the MicMonster server, eliminating the need to download voice packs.
On the other hand, LOVO offers a wide selection of unique voices with excellent quality. Among them, many of them sound realistic, not robotic.
Besides, it has its own TTS engine. Hence, it can produce high-quality voices comparable to leading high-end sounds, especially in English.
Also, the user can define the word's pronunciation and emphasize the word by adjusting the speed. But language selection can be limited, although it will increase over time.
In short, MicMonster is renowned for its overall quality and wide range of languages. Meanwhile, LOVO stands out with its unique selection of high-quality voices and customization options.
Ease of Use

Ease of Use
In terms of ease of use, MicMonster and LOVO offer user-friendly interfaces and intuitive controls that make creating high-quality audio content simple.
MicMonster provides a simple UI that is easy to navigate and understand. Similarly, LOVO has a good UI that is easy to control and navigate.
In comparison, MicMonster is more user-friendly. Also, this tool makes it easy to adjust the speed of sentences. The goal is to make any unnatural parts more natural.
Besides, users can send their text to the selected voice tool. Then it will read that voice text.
Features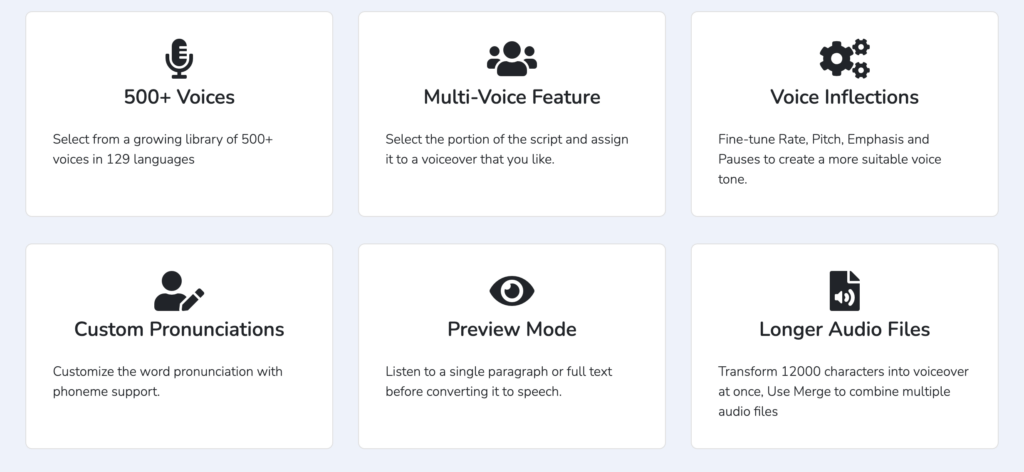 Features
First, MicMonster offers unlimited characters. Thus, you can convert as much text to speech as you want without worrying about limits.
It provides access to 140 languages. It is a vast selection that caters to a global audience. With more than 600 voices, this tool offers many options for users.
Also, it offers unlimited projects. Hence, it becomes ideal for anyone who needs to create voices regularly. Besides, it offers a commercial license suitable for firms that need dubbing for commercial purposes.
Meanwhile, LOVO offers five hours of voice generation credits. In other words, you can convert up to five hours of text to speech.
In addition, it provides access to more than 20 premium voices. They are all high quality and sound very natural. Among them, with three emotions that can express more than 20 emotions, LOVO offers more options for users who need to create voices for emotional content.
Besides, it offers a voice in over 100 languages, making it suitable for users with a global audience.
It is worth noting that LOVO also offers unlimited downloads and 100 GB of storage. It is the best feature for those who need to archive their created voiceovers.
Plus, it provides access to beta voices, which are still in beta but offer a glimpse into the future of TTS technology.
Ultimately, you'll love this tool if you need to create narrations frequently, as it offers priority queues, production mode, and priority support.
Customization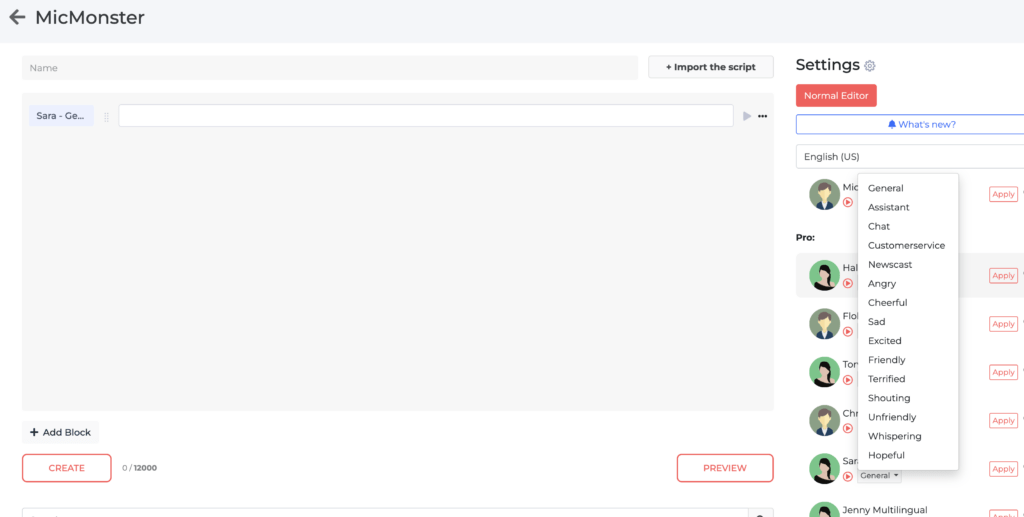 Customization
MicMonster and LOVO offer a high degree of customization to users, allowing them to tailor their recordings to their specific needs.
MicMonster offers pitch, speed, and pause adjustments to help users modify the timbre and tempo of their voice recordings.
This feature is helpful for audiobooks or podcasts. They need a specific voice but a different timbre to make the narration more natural.
On the other hand, LOVO allows the user to adjust the speed of some sentences. So it can make any unnatural part more natural.
Users can emphasize specific words by clicking on them and adjusting the speed with this tool.
Besides, it provides a sentence-edited editor. As a result, users quickly select words, phrases, or sentences to adjust the tone and tempo.
In short, LOVO also offers a factory mode, allowing for more customization options. Thus, users can add sound effects and background music and adjust the level using this feature.
Output Formats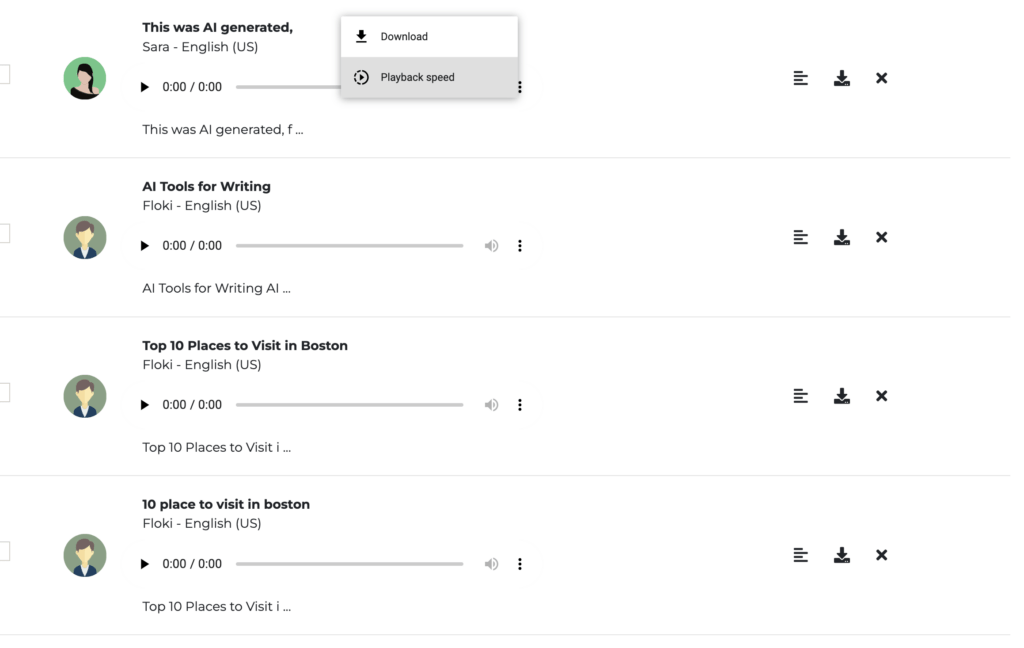 Output Formats
MicMonster mainly provides MP3 files as the output format for its dubbing. MP3 is a recognized and widely accepted format compatible with most websites and software. It makes it easy for users to edit and compress files to their specifications.
On the other hand, LOVO offers 1080p video output as an output format. This feature benefits users who require high-quality video files with clear sound.
Hence, it allows users to create professional-grade audio videos for a variety of goals, such as:
Marketing videos
Explanatory video
Video tutorial
Cost
MicMonster offers a subscription-based model starting at $39 every three months for up to 12000 characters per dub. This subscription includes all available voices and cloud storage for saving audio files.
LOVO also offers the same prepayment model as its rival. But its cost is higher. Specifically, you must pay at least $19/month with the Basic plan.
Yet, it has a 14-day free version to help you test it. Thus, it is more flexible in focusing on user experience.
Comparison Table
MicMonster
LOVO
Voice Quality
Human sounding voice
Better
Ease of Use
User Friendly
Easier
Features
Support more languages and voices
Advanced Features
Supports fewer languages and voices
Advanced features
Customization
Lots of choice
More options
Output Formats
MP3
1080p video
Cost
Lower
Try voice generator free
Higher
Have free trial
Pros And Cons of MicMonster vs LOVO
So we have gone through the detailed comparisons of two software. Let's take a look at the highlights of these two tools!
MicMonster
Pros:
Offer a wide selection of voices with high quality and realistic tone
An easy-to-use interface
Allow for customization of pitch, pace, and pauses
Use an MP3 file format
Offer unlimited characters, languages, projects, and a commercial license
Cons:
Lacks some advanced features
USA English voice style only
LOVO
Pros:
Offer premium voices with high quality
Provide the ability to emphasize words and adjust the speed for more natural sound
Offer global voices in over 100 languages and 1080p video export
Provide commercial rights and unlimited downloads with 100GB storage
Offer beta voices, producer mode, and priority support
Cons:
Limited voice generation credits
MicMonster vs. LOVO: Which One Should You Choose?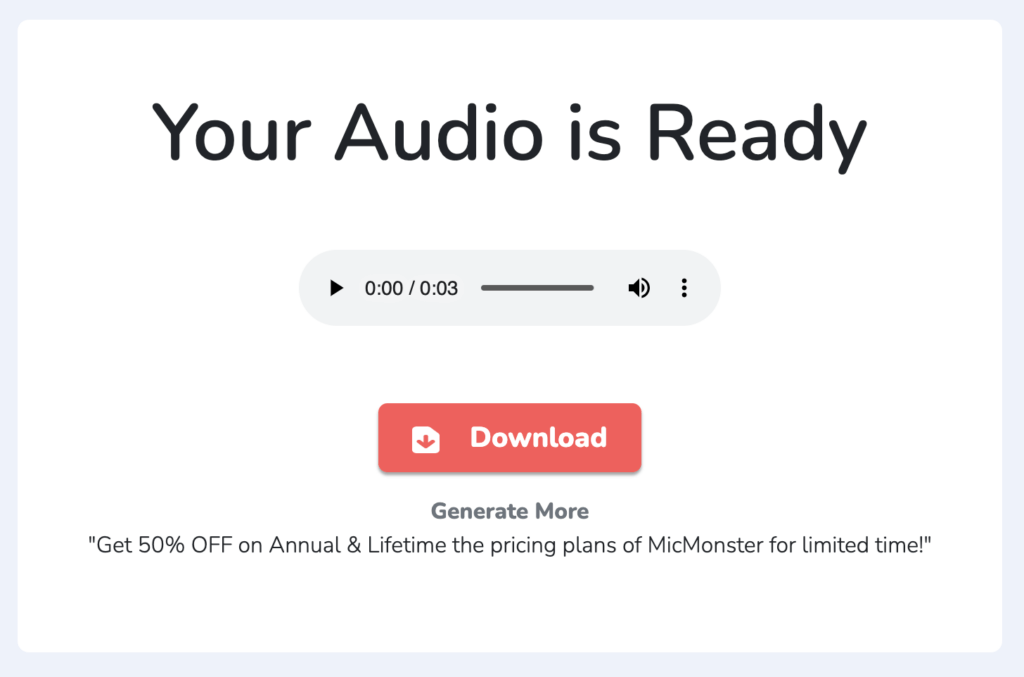 Which One Should You Choose?
Choosing between MicMonster and LOVO depends on your needs and priorities.
If you are looking for a tool that offers customization options, advanced editor, a wide range of languages and emotional voices, MicMonster is a suitable choice. With over 140 languages and 600+ sounds, MicMonster has a wide selection.
On the other hand, if you are looking for a tool that only offers customization options and an emotional voice, then LOVO will be a better choice. Specifically, it offers:
More than 20 premium voices
Three emotional voices with more than 20 emotions
Ability to adjust speed and emphasize specific words
Output 1080p video
Also, while MicMonster offers a lower price, LOVO.ai has more features and customization options for that price. Thus, evaluate your budget and needs before making a final decision.
Voice Samples of MicMonster:
FAQs
Is Micmonster Worth It?
Yes, it is. MicMonster is worth it if you're looking for an AI voice tool that provides:
High-quality voiceovers
A user-friendly interface
Affordable pricing
Its wide range of voices and languages with its advanced editing features and commercial license. So it is an excellent choice for both personal and business use.
What Makes Micmonster Such a Good Voiceover Engine?
MicMonster's standout features include its extensive selection of:
Over 600 voices in 140 languages
Unlimited characters and projects
Advanced editing options
MP3 output format
Besides, its AI technology ensures smooth and genuine tones. Meanwhile, its commercial license allows for the professional use of voiceovers. Also, the affordability and user-friendly interface make it a top choice for many users.
Is LOVO Worth It?
It is worth considering if you need high-quality voice generation, customizable options, and many languages and voices.
Also, the 20+ premium and global voices in over 100 languages are standout features. Yet, its pricing plans may not be as affordable as other options.
Is Micmonster Or LOVO Better?
Based on our review, we prefer LOVO. It offers customizable options, a large selection of languages and voices, and emotions.
Yet, it's up to the user to decide which features are most important for their specific use case.
Conclusion
In short, choosing the right tool between MicMonster vs LOVO for your needs will depend on your specific needs, such as the ones we mentioned.
Ultimately, you should try both tools and determine which best suits your needs. With these tools, you can save time and money while producing audio content. High-quality videos will engage your audience and take your project to the next level. 
Do you have any questions about these tools? Please share with us in the comment section below!