In this article, we have featured voicemaker that will help you to know everything about voicemaker from its pricing to the best features, cons, and alternatives.
I will also compare it with MicMonster which is also text to speech tool and provide you with an honest opinion.
If you are wondering what is voicemaker basically it is text to speech tool that produces human-sounding speeches and is used by employees of Fortune 500 companies such as coca-cola and some other famous brands as well.
Voicemaker Review
Recording voiceover isn't as easy as it seems. You need a quality microphone, software, and a calm environment. Even after all of this, still recording professional voiceover is easy. Just like other skills you need to practice it.
From the last 5 years we have seen AI on boom. AI is almost involved in all tech projects so with text to speech. Today differenting text to speech voices from human becoming difficult day by day. Some people believe text to speech technology is not their yet.
But it will be there in coming years when you can't differentiate between human voice and AI voice, trust I'm know about this field.
Now it is possible to generate almost lifelike voices. Since everybody wants to save time and energy that's why more and more people are moving towards text to speech tool.
Voicemaker is one of them. There are more than 700+ voices in more than 90 languages. However not all of the voicemaker sound realistic.
If you visit voicemaker you will notice two AI engine standard and AI. Standard voice sound robotic in my opinion. Here are the few voice samples.
Anyway coming to easiness. The tool is super easy to use. Visit the website, type your text and hit create speech button.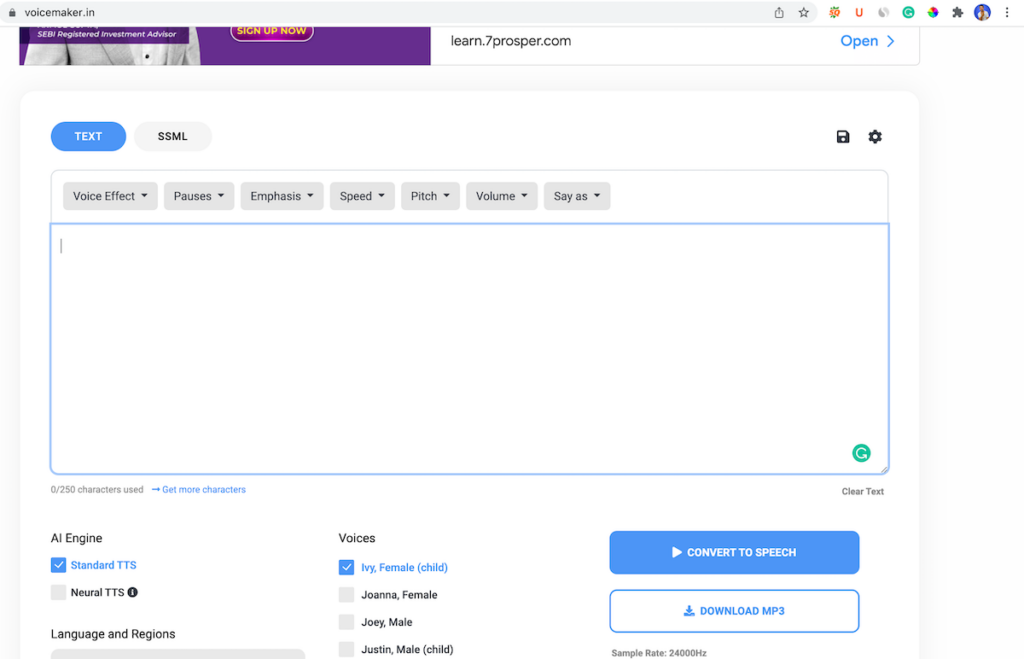 Some voices are not available for registered users only. It's Free to sign up. Free user can only transform upt to 250 characters per voiceover.
There is no storage for free users and so is no merge feature.
Here at MicMonster you can transform up to 1000 characters into voiceover and you can also store your voiceovers for FREE.
You can also combine up to 10 audio files at once for longer content.
If you visit the voicemaker pricing page you will find out that free users can do unlimited converts. However it is not true. You can only transform up to 50k characters per month. The same limit apply to MicMonster free users.
Voice Samples
In any text to speech tool the most crucial feature is voice that you are getting. How realistic voice sounds can make or break the decision.
Since you are getting 700 voices inside the voicemaker it's not easy to listen every voice sample. I can tell you the most realistic voices that you are getting inside voicemaker.
If you have noticed some voices has A3 tag. These are the voices that you want to choose. And most importantly A4 voices don't sound better than A3 voices.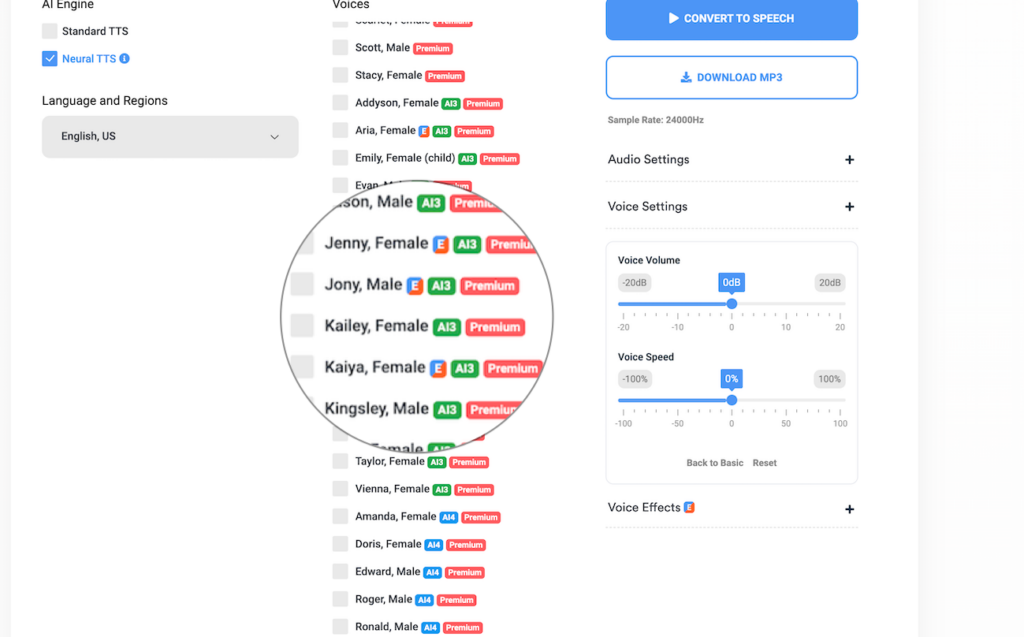 Here are few voice samples.
Voicemaker has a separate page where you can get all voice samples. However finding them is bit time consuming since there are so many voices.
In the MicMonster you are getting same A3 voices. Except this you are also getting voices that has premium tag in the voicemaker. Here are the samples.
Pricing
Voicemaker has multiple plans when you want to upgrade. And what they are saying in pricing is not true. Here is true pricing of voicemaker.
Free
Up to 250 chars
50K Limit (It is not unlimited)
All voices
All languages
Basic $5/month
Up to 3000 chars
500k Characters/month
All voices
All languages
1 GB Storage
Premium $10/month
Up to 3000 chars
500k Characters/month
All voices
All languages
5 GB Storage
Business $20/month
Up to 3000 chars
1 Million characters/month
All voices
All languages
10 GB Storage
Voicemaker has also pay-as-you-gogo plans that are mainly developed for audiobook content creator or anyone who want to transform longer content into audio. Here are the details
Price $25
Upto 100,000 chars per convert
1,000,000 characters per year
All voices
10 GB Storage
Voicemaker also provides API in case you want to use in your development. It will cost you $25 for 1 million characters.
Most users go with monthly plan. Keep in mind that these plans will not be renewed automatically. You have to renew them next month.
VoiceMaker Cons
Now I have covered all the important features of voicemaker. Here are the cons that I found in the voicemaker.
No Merge Feature: Unlike MicMonster you can't merge multiple audio files to make one big audio file. You have to use your own computer. Another thing that I don't like is the storage organization. Here at MicMonster, you can create projects. Inside the project, you can create voiceover and under the tool you can find your voiceovers. You can download, delete or merge them with one click.
Only 3000 Characters per voiceover: Another limit I found in the voiceover is you can only transform up to 3000 characters into voiceover unless you are not purchasing an audiobook plan. In the MicMonster you can transform up to 12000 characters into voiceover at once. And do not forget you are also getting a merge feature to combine longer audio files.
Basic Editor: You can't use multiple voiceovers in a single script like you can do with MicMonster advanced editor. The emphasis feature is also not good enough like MicMonster's advanced editor.
Voice Samples: You have to visit another page to find all voice samples. On that page still finding voice samples is bit difficult because it is divided into multiple pages depending upon the voices that you are getting in a language. So it is a very time consuming process.
VoiceMaker Alternative MicMonster
This text-to-speech software is always on top of our every list because of its unique features. MicMonster is one of the best budget text-to-speech software. This is a cloud-based software. Which helps you in transforming your text into audio.
This Voicemaker alternative has over 140 languages and 500+ voices. This software has the most realistic A.I. voices. Now let's discuss more this alternative of Voicemaker.
Features:
Works in 140 languages

500+ Voices

160 Kbps bit rate
mobile-friendly software
Multiple Voice Styles (Angry, Cheerful, Excited, Sad, Hopeful, Friendly, Unfriendly, Shouting, Whispering)
Upcoming Mobile App
Quarterly
$69
$39/qtr
Get 50% OFF
"50TODAY"
---
Unlimited Converts

140 languages

600+ Voices

12000 Characters per voiceover

Commercial license

Background Music Library

Advanced Editor
Annual
$299
$59.5/year
Get 50% OFF
"50TODAY"
---
Unlimited Converts

140 languages

600+ Voices

12000 Characters per voiceover

Commercial license

Background Music Library

Advanced Editor
Lifetime
$999
$399
Get 50% OFF
"50TODAY"
---
1 Million Chars/month
140 languages
600+ Voices
12000 Characters per voiceover
Commercial license
Background Music Library

Advanced Editor
Advanced editor
MicMonster's cloud-based solution has an advanced editor lets take the text to speech it to the next level. The advanced editor lets you
Multiple Voices In Single Script
Want to Create dialogue audio, no worries inside advance editor you can assign a specific portion of the script to any voice.
Pronunciation Support
AI technology Sometimes mispronounces invented words. With Pronunciation, you can control how to speak specific Words.
We could not find words that Micmosnter miss pronounced. But we are still looking
Control Speed, Pitch, volume for specific sentences
Using the advance editor you can control pitch, volume & speed for a specific portion of the script.
Emphasize
Stress on words that are important to the context. You can draw graph to customize how much stress you want to put on words.
With all these features, you can produce Voiceovers like the following:
2. NoteVibes
Here we have another alternative of Voicemaker. Notevibes wouldn't be my first choice as it is nothing in comparison to MicMonster with lesser features. This text-to-speech software is famous for its high character limit that is 5000 characters for free.
You can utilize this software for broadcasting and reading.
The bad thing about this software is that it has Speed issues, robotic sounds and very expensive commercial options. Notevibes can also not read from pdf and docs.
Features:
17 languages
177 voices
Add Background Music
Advanced editor
DJ voice creation
Pricing:
Free – (5,000 characters, 24 Premium Voices, and 6 Languages).
Personal – $9 monthly (100.000 characters, 157 Premium Voices, and 18 Languages).
Commercial – $90 (1.000.000 characters, 157 Premium Voices, and 18 Languages).
Voice Samples:
3. Naturaltts
Here is yet another alternative Voicemaker. Although Naturaltts is an affordable text-to-speech software it has a few drawbacks. Such as you won't be able to change the pitch of the audio without using SSML tags. This software also does not support docs and pdf format. Other than that it consists of 21 languages and 61 voices.
Features:
21 languages
61 voices
SSML tags editor
Compared to other software, the cost is low.
Pronunciation, volume, and speech rate can be controlled
Pricing:
Free – 5000 characters per month
Personal plan – $9.99 per month
Commercial plan – $79.99 per month
Voice Samples:
4. Voicepods
Voicepod is user-friendly text-to-speech software. Which combines an individual service. And this makes it easier for various businesses to use text-to-speech software easily. Their voices sound very natural and clear.
The drawback of this Voicemaker alternative is that it consists of very few languages and voices. It has only 9 languages and 16 voices. It also limits free users to 5 conversations/month.
Features:
It consists of an Expressive Content Editor
You can insert breaks, emphasis, pitch, volume enhancements etc.
Available in the form of an Application programming interface or standalone.
Voices all sound realistic
Pricing:
Free plan – 5 conversations/month
Starter plan – $9 (20 conversations/month)
$20 to increase conversations to 100/month
Voice Samples:
Final Words
To sum it up, Here I have mentioned voicemaker's best features, limitations, price, and alternatives.
The software that I would like to highly recommend among the above is MicMonster. With features like 129 languages, 400+ voices, and high audio quality of 160 Kbps bit rate. This text-to-speech software has gained a lot of popularity and good reviews.
Now, it's up to you whichever software you want to choose in replacement of Voicemaker, each of the given software will satisfy you equally.