I know you might have come across many overall reviews of Speechelo. Where they have explained everything about this text-to-speech software in brief. But today we are going to have a discussion about the Character Limit of Speechelo.
If you're not aware, Speechelo is text-to-speech software that helps you in making realistic voice-overs. Now, every software has a few limitations and today we are going to discuss one of such limitations of speechelo.
So if you're looking for more information on the Character limit of Speechelo… then you have reached the right place. Without wasting any more time, let's dive right into it.
Free Version
Speechelo offers no free version; you have to purchase the standard version to utilize their services.
Standard Version
It's no surprise that every review mentions how the character limit of Speechelo is a bit misleading as the users are promised that the standard version will have no word limits. This is totally false information as Speechelo's standard version has a limit of 5000 characters at once.
There will be no problem If you use approximately 16.000 characters a day. But in 1 day moment, you cross about half a million characters. Then Speechelo can pause your account for 29 days and you can't do anything about it.
The standard version provides a limit of just 500,000 words a month. According to the reviews if you utilize more characters than the given limit. Your account can be banned for approximately 29 days.
In short, you can't do voice-overs for 29 days. Speechelo claims that they have mentioned all about these policies in their Terms of Service. Maybe you need to read their TOS with more concentration.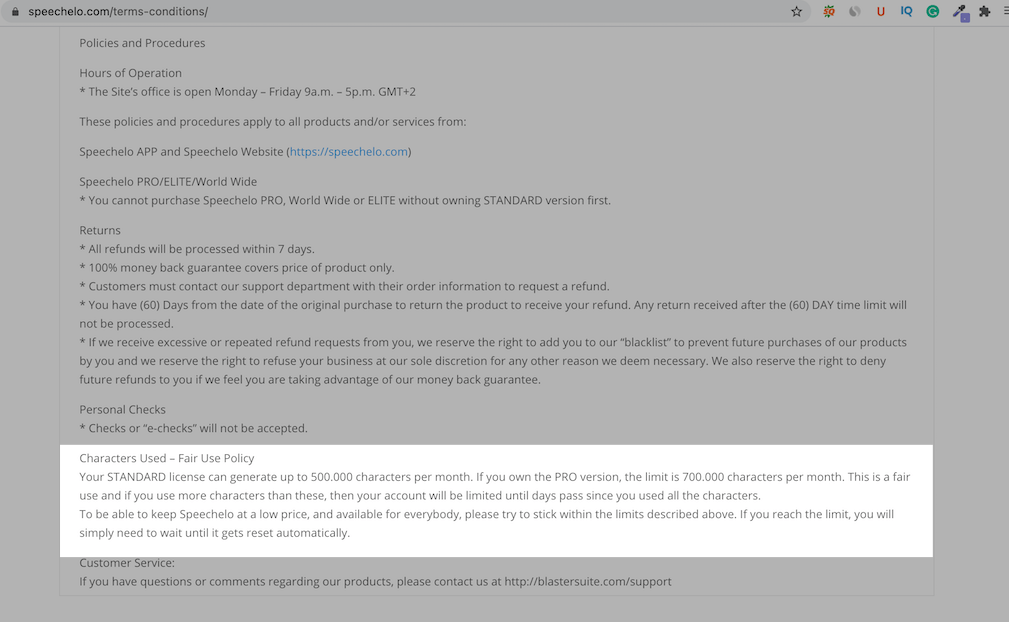 Pro Version
Talking about the Pro version, as per reviews it has been said that after you have used the standard version. Speechelo asks you to upgrade your account to the pro version. Which is basically a quarterly service that costs you $47.
Now you're thinking that if you're paying such a high price per month for speechelo pro then the characters might be unlimited? Well you're wrong!
Speechelo pro has a limit of 20000 characters at once. Although the number of voices you get in Speechelo pro is double of what is given in the standard version.
Which is about 60 voices and also gives you permission to choose from the various background music available. There is also a merge feature available to combine multiple audio files. Although the limit of character per month in Speechelo pro is up to 700000.
Now you're thinking about what to do if you don't want to be locked out of your account and still use the service. Well, according to the Speechelo team.
You can divide the text into multiple parts and then render it and later on merge it together. As when we render long text, it's a possibility that we might miss a few characters.
Alternative Solution: MicMonster
You might have heard about this alternative of Speechelo. MicMonster is a software that is famous for its exclusive services and if you've not heard about this software till now. Then I am here to enlighten you. You can produce a natural-sounding voiceover using MicMonster in just 7 seconds or less. 
This website includes 48 languages with 300+ voices! This software has one of the best A.I. voices. The program is cloud-based text-to-speech software that will assist you with making voice-overs for your work. 
Features –
48 languages
300+ voices
160 Kbps bit rate
Mobile friendly software
Commercial licence
Pricing –
Quarterly
$69
$39/qtr
Get 50% OFF
"50TODAY"
---
Unlimited Converts

140 languages

600+ Voices

12000 Characters per voiceover

Commercial license

Background Music Library

Advanced Editor
Annual
$299
$59.5/year
Get 50% OFF
"50TODAY"
---
Unlimited Converts

140 languages

600+ Voices

12000 Characters per voiceover

Commercial license

Background Music Library

Advanced Editor
Lifetime
$999
$399
Get 50% OFF
"50TODAY"
---
1 Million Chars/month
140 languages
600+ Voices
12000 Characters per voiceover
Commercial license
Background Music Library

Advanced Editor
Voice Samples –
Conclusion
To sum it up, I hope this article cleared all the doubts you had about the Speechelo Character limit. And you have got all the information about it by now. Have a great day!