Making videos isn't easy as writing. That's where the text to speech software comes into play. They exist in the market from several years. However, very recently they start growing because of AI.
Talkia and speechelo are these kind of software. If you are looking for a speechelo vs talkia comparison then you are on the right page. Here I will share my honest opinion about both programs.
I will also provide you voice samples so you can make decisions by your own. You will also get information about price & discount coupons as well.
Speechelo
Speechelo offers a front-end subscription just at $37. Speechelo is a cloud-based solution, not software. You can access it from any device.
It works in 23 languages including english. There are total 30 voices in the front license.
When you generate voiceovers inside speechelo you will have to decide on engine Standard or AI. AI sounds much better than standard however you can't add breathing, emphasis words.
You can render only 5000 characters (close to 700 characters) once inside the speechelo. However, it allows you to merge two audio files and make it one.
Speechelo doesn't offer any music in the front-end license. It offers music in Pro version however you can't add inside the speechelo. You have to download the music then using any other video editor you can attach to the voiceover.
Here are the voice samples generated using speechelo.
Talkia
Talkia is new software. It is developed by the bryxen company who is behind the toonly, doodly and voomly software.
Talkia is software for windows & mac. It offers front end license at $67. It supports 22 languages. There are total 67 voices.
You are also getting background music inside the talkia. In the front-end license, you are getting 30 music. You can add it inside the talkia software.
Here are voice samples of talkia.
Talkia vs Speechelo
| Speechelo | talkia |
| --- | --- |
| Total 23 languages | Total 22 languages |
| 30 voices | 67 voices |
| The word limit is 700 words | The word limit is 1000 words |
| Can merge audio files | Can merge audio files |
| User can add pauses, breathing, emphasize words or change tune (Normal, friendly, serious) | Not available |
| Does not include talkia voices | Include speechelo voices and other voices. |
| Can't add background Music | Can add background Music |
Price & Upsells information
Here I will provide the price and upsells information. First, let me provide speechelo information.
Speechelo
Front end
Speechelo offers a front-end license at $37. I just compare the front-end version. Speechelo has two upsells
Speechelo Pro
Speechelo pro includes more voices, background, and dialogue features basically you can add a voice from another speaker. The pro version is necessary if you want to use voiceover for commercial purposes.
You can also render 2800 words once if you upgrade to the pro version.
There are total of 100 voices inside the speechelo pro.
It will cost you $47/quarterly payment. However, you can get this at this one-time price. Just click on the No button on the landing page. It will show you a one-time $127 deal.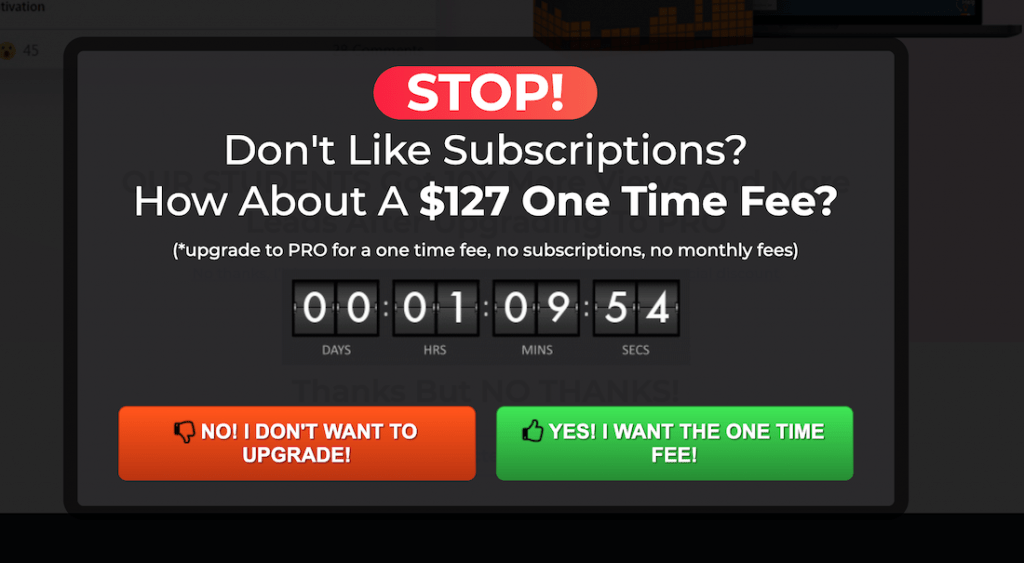 Talkia Price
Front end $67
I have cover all the features of front-end subscriptions in this comparison. Remember talkia is software for windows & mac, unlike speechelo which is a cloud-based solution.
Talkia enterprise
The enterprise will cost you $97/year. Here you can get more voices (329), more background music (150), a commercial license and your word render limit will be increased to 5000 words.
There is no trick to get enterprise at a one-time cost.
Speechelo vs talkia Or Another Choice
What if I tell about another platform that not only sounds better than both platforms however more affordable as well.
Introducing micmonster. Micmonster is a text-to-speech software.
Price:
Micmonster standard $37
48 languages
3000 characterst at once
one campaign
200 voices
Upsell 1) Micmonster pro $97/year
12000 characters at once

Unlimited projects

Unlock 100 More voices

Background music
Commercial license
Narration
Advance Editor
Emphasize Word
Upsell 2) Micmonster agency $197/year
Agency license
Add sub users
30 days money-back guarantee
Voice Samples
Floki
Torvi
Amber (Pro)
Ana (Pro)
Ashley (Pro)
Brandon (Pro)
Christopher (Pro)
Cora (Pro)
Elizabeth (Pro)
Eric (Pro)
Jacob (Pro)
Jenny (Pro)
Michelle (Pro)
Monica (Pro)
Micmonster works in 48 languages including different accents of English and other popular languages. There is a total of 220 speakers.
However, the best thing about micmonster is it lets you change voice style such as general, chat, cheerful, empathetic, etc.
Buy With Confidence
All the solutions that I have listed including micmonster provide a money-back guarantee. Talkia and micmonster provide you 30 days money-back guarantee.
Speechelo provides you 60 days money-back guarantee. So buy with confidence. If you have any questions about Micmonster then let me know by the comment section.
I hope you got value from this short article.