Are you looking for a reliable and realistic British man voice generator? Look no further than MicMonster's revolutionary text-to-speech technology! With its advanced features and a wide range of voice options, MicMonster is the go-to platform for transforming any text into natural audio with a British male accent.
MicMonster's British man voice generator
MicMonster stands out from the crowd with its cutting-edge technology that delivers the most realistic text-to-speech engine. Using sophisticated algorithms, MicMonster can produce voices that closely mimic natural human speech, providing a truly immersive experience for your audience.
A Diverse Selection of Voices
MicMonster offers an extensive library of voice options, and when it comes to British male voices, it doesn't disappoint. Meet Oliver, the suave and sophisticated gentleman, or go for Ryan, exuding charm and charisma. If you prefer a more authoritative tone, Noah might be the perfect choice. With MicMonster, you have a wide range of options to choose from, each with its unique style and personality.
Try now Free English (United Kingdom) Text to Speech
Dive into MicMonster's AI voiceover universe: Crafting the Ultimate AI Voiceover Experience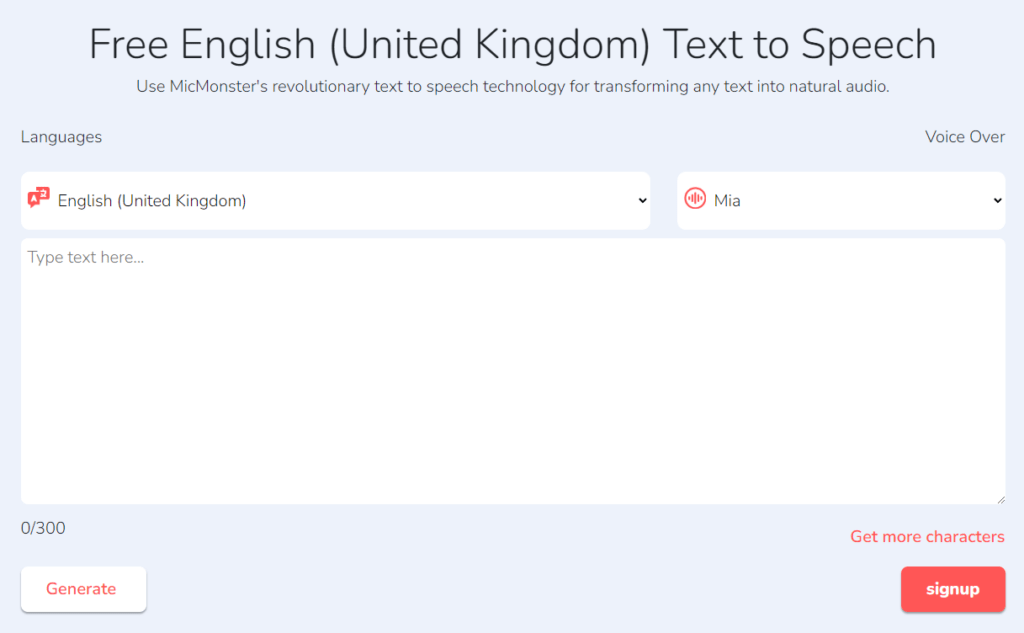 Other English accent on MicMonster:
Simple and Easy to Use
Using MicMonster to generate a British man's voice is a breeze. Here's a simple step-by-step guide:
Step 1: Type or Paste Your Text
Simply paste or write your text into the provided input field. MicMonster free tool allows up to 300 characters per voiceover, ensuring you can get your message across effectively.
Step 2: Select the Desired British Man VoiceOver
Browse through the list of British male voices – Ryan, Ethan, Elliot, and more. You can even listen to a default sample by clicking on the speaker icon to make sure it matches your requirements.

Step 3: Click on Generate
Once you've selected the desired voice, click on the "Generate" button, and within seconds, your text will be transformed into a lifelike British man's voice, ready to captivate your audience.
Suitable for Various Use Cases
MicMonster's British man voice generator is perfect for a wide range of applications, including:
E-Learning: Enhance your e-learning courses with engaging and professional-sounding narration, improving the learning experience for your students.
Presentations: Add a touch of professionalism to your presentations by using a natural British man's voice to convey information effectively.
YouTube Videos: Make your YouTube content stand out with a captivating voice that keeps your audience hooked throughout the video.
Podcasts: Whether it's storytelling or informational content, a British male voice from MicMonster adds depth and character to your podcasts.
Affordable and Trustworthy
MicMonster is trusted by many well-known brands and creators for its high-quality voiceovers. It offers a free version, but for access to the full suite of features, including the advanced editor and a library of over 600 voices in 140 languages, consider upgrading to MicMonster Pro.
Don't Miss the Limited-Time Offer
For a limited time, you can get a 50% discount on Annual & Lifetime pricing plans of MicMonster. This exclusive offer ensures you can access all the premium features at a fraction of the regular cost.
Conclusion
When it comes to generating a natural-sounding British man's voice, MicMonster is the ultimate text-to-speech technology you can rely on. With its advanced features, diverse selection of voices, and affordability, MicMonster is the perfect tool for content creators, educators, and businesses seeking to take their audio content to the next level. So, why wait? Unlock the power of MicMonster's British man voice generator and elevate your content today!