In the ever-evolving landscape of digital creativity, Murf.ai stands as a trailblazing solution for transforming text into lifelike, emotionally nuanced voices. At MicMonster, we recognize the significance of understanding the intricacies of Murf.ai's pricing plans, which play a pivotal role in shaping your audiovisual projects. Join us on a journey through the spectrum of Murf.ai's pricing editions and discover how this innovative tool can elevate your content creation endeavors.
Murf.ai Pricing Overview
Certainly! Here's the pricing information for Murf.AI's plans presented in a table format with the plans as rows:
| Feature | Free | Basic | Pro | Enterprise |
| --- | --- | --- | --- | --- |
| Monthly Price | $0 | $19 | $26 | $99 |
| Yearly Price | $0 | $228 | $312 | $5940 |
| # of Users | 1 | 1 | 1 | 5+ |
| # of Voices | Try all | 60 basic voices only | 120+ | Try all |
| # of Languages | Try all | 10 languages | 20+ languages | Try all |
| Voice generation time | 10 mins | 24 hours per user/year | 48 hours per user/year | Unlimited |
| Audio Transcription time | 10 min trial | Not applicable | 24 hours per user/year | 24 hours per user/year |
| AI Voice Changer | No | No | Yes | Yes |
| Licensed Soundtracks | Try all | 8000+ | 8000+ | 8000+ |
| Video/Image Upload Limit | 50 MB | 200 MB | 400 MB | 400 MB |
| Video Export Quality | – | Full HD | Full HD | Full HD |
| Number of Downloads | – | Unlimited | Unlimited | Unlimited |
| Number of Formats | – | All | All | All |
| Share Output via Link | Yes | Yes | Yes | Yes |
| Password Protected Share | – | – | – | – |
| Storage per User | 1 GB | 10 GB per user | 20 GB per user | Unlimited |
| Commercial Usage Rights | – | YouTube monetization | YouTube monetization | YouTube monetization |
| Support | Chat and Email (Mon-Fri, Sat UTC timings) | Chat and Email | Priority Support | Priority Support |
Please note that the features and benefits are summarized in the table cells. For more detailed information about each plan's features, it's recommended to refer to the original web page.
Understanding Murf.ai Pricing Plans:
When it comes to Murf.ai, it's essential to navigate through the different pricing editions that cater to a myriad of needs. As sourced from MicMonster's product page, Murf.ai's pricing landscape is designed to offer flexibility and choice. From the allure of a free trial to the premium tier at $99 per user per month, each edition is carefully curated to suit a diverse range of users.
Our Insight:
Understanding Murf.ai's pricing options empowers you to align your creative aspirations with your budget, ensuring a harmonious experience that brings your visions to life.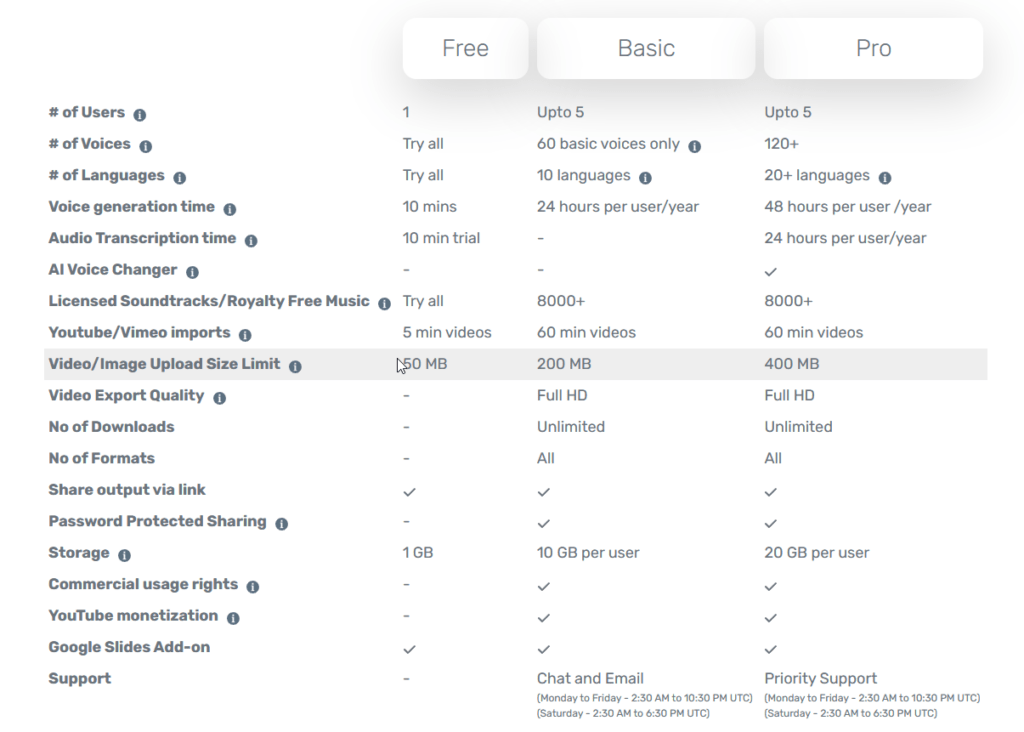 Detailed Pricing Editions:
Delve into the heart of Murf.ai's pricing ecosystem, where we explore the four distinct pricing editions: Free Trial, Basic, Pro, and Enterprise. Each tier builds upon the last, introducing a crescendo of features and benefits that cater to professionals, creators, and enterprises alike.
Unveiling the Features:
Explore the nuances of each pricing tier, from the tantalizing possibilities of the Free Trial to the comprehensive capabilities of the Enterprise edition. Uncover voice generation and transcription limits, access to an array of voices across multiple languages, licensed soundtracks, and the promise of commercial usage rights.
User Reviews and Feedback:
Experience Murf.ai's impact through the lens of real-world users. One validated reviewer, Ankit V., raves about the affordability and quality of Murf.ai's services. This glowing feedback underscores the practicality of the pricing plans and how they've enabled users to save money while achieving professional-grade results.
MicMonster Insight:
Positive user feedback echoes the tangible benefits of Murf.ai's pricing plans, emphasizing its role in enhancing content creation and business scalability.
Murf.ai Features Overview:
The journey through Murf.ai's pricing landscape wouldn't be complete without a glimpse into its core features. MicMonster highlights both the highest-rated and lowest-rated aspects of Murf.ai's text-to-speech software, offering insights into elements such as volume, speed, audio format flexibility, emotion, pronunciation, and real-time streaming.
Harnessing Advanced Features:
Discover how these features contribute to the richness and authenticity of voiceovers, accentuating the uniqueness that Murf.ai brings to the table.
Industries Using Murf.ai:
MicMonster dives into the diversity of industries that Murf.ai caters to. From Marketing and Advertising to E-Learning, Information Technology and Services to Media Production, Murf.ai's services resonate across a multitude of sectors, offering versatile solutions for content creation and communication.
MicMonster Insight:
Murf.ai's wide-ranging applications across industries underline its adaptability and capacity to enrich a variety of projects.
User Ratings and Comparisons:
Unveil the quantitative essence of Murf.ai's performance with user ratings in areas of ease of use, support quality, and setup simplicity. MicMonster goes further, comparing Murf.ai with alternative solutions like Descript, Fliki, and WellSaid Studio. These insights showcase how Murf.ai stands strong among its contemporaries.
MicMonster Insight:
Murf.ai's user ratings and comparisons testify to its efficacy and distinction within the text-to-speech landscape.
Conclusion and Takeaways:
As we draw the curtain on our exploration, MicMonster reiterates the importance of comprehending Murf.ai's pricing plans. This understanding serves as a guiding light, steering you towards a choice that aligns with your aspirations, whether you're a creator, educator, or business professional.
Empower Your Creativity:
By embracing Murf.ai's pricing offerings, you empower yourself to infuse emotion and authenticity into your content, transforming words into captivating voices that resonate with your audience.
Embark on your journey with Murf.ai and let MicMonster be your guide to unlocking the potential of text-to-speech innovation.
Explore More with Murf.ai
For those looking to explore the full potential of Murf.ai's offerings, be sure to check out our exclusive Murf.ai promo code at Murf.ai Promo Code. Wondering if Murf.ai is free? We've got you covered with all the details at Is Murf.ai Free?. Additionally, if you're interested in exploring alternative options, take a look at our comprehensive guide on Murf.ai alternatives. Curious about what users have to say? Check out our detailed Murf.ai review for insights and testimonials. And when it comes to safety concerns, learn more about the security aspects of Murf.ai at Is Murf.ai Safe?. If you're ready to dive in and learn how to make the most of Murf.ai's features, our guide on how to use Murf.ai provides step-by-step instructions to get you started.