Welcome to "A Beginner's Guide to Making Voice Overs," where you'll embark on a journey to discover the seamless process of creating captivating voice overs using the power of Murf AI. If you've ever wondered "How to use Murf AI" to craft voice overs that resonate with your audience, you're about to learn how. Whether you're aiming to evoke powerful emotions, provide informative narrations, or deliver inspiring messages, Murf AI's advanced text-to-speech technology offers you a pathway to achieve just that. This guide will walk you through the essential steps and creative techniques to effectively utilize Murf AI for your voice over projects.
In the world of digital content creation, the power of voice overs cannot be underestimated. They add depth, emotion, and information to videos, presentations, and more. But what if you could create these captivating voice overs with the help of AI? Welcome to the future of voiceovers with Murf AI! This comprehensive guide will take you through the process of using Murf AI's voice generator to create stunning voice overs that resonate with your audience.
Why Choose Murf AI's Voice Generator?
Murf AI's voice generator is a game-changer for content creators. Here's why:
Cost-Effective Brilliance: Crafting voice overs has never been more budget-friendly. For frequent content creators, the text-to-speech voiceover process is a cost-effective solution that delivers professional results.
Unleash Your Creative Control: With Murf AI, you're in the driver's seat. You can manage the tone, emphasis, and pacing of your voice overs, iterating and refining your content until it's just right.
The Magic of Text-to-Speech: Start the process by inputting your script. The AI technology empowers you to hear how your script sounds even before recording. No need to spend time in a traditional studio.
Is Murf AI Free?: Curious about the pricing structure of Murf AI? Discover whether Murf AI offers a free plan and explore its pricing options in detail at Is Murf AI free?. Make informed decisions about your voiceover projects.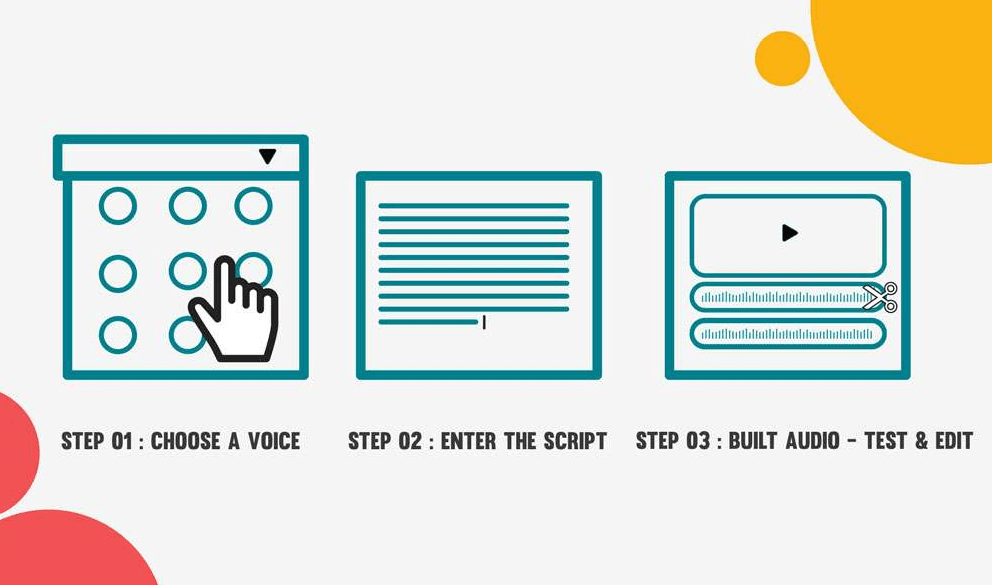 Using Murf Studio for Voice Overs: Three Simple Steps
Murf Studio's intuitive interface is designed for beginners and pros alike. Here's how to create quality voice overs in minutes:
Step 01: Choose the Perfect Voice
Start by selecting the ideal voice for your project. Murf's impressive library includes over 110 voices in 15+ languages and continues to expand. Play around with different options until you find the voice that resonates with your content and target audience.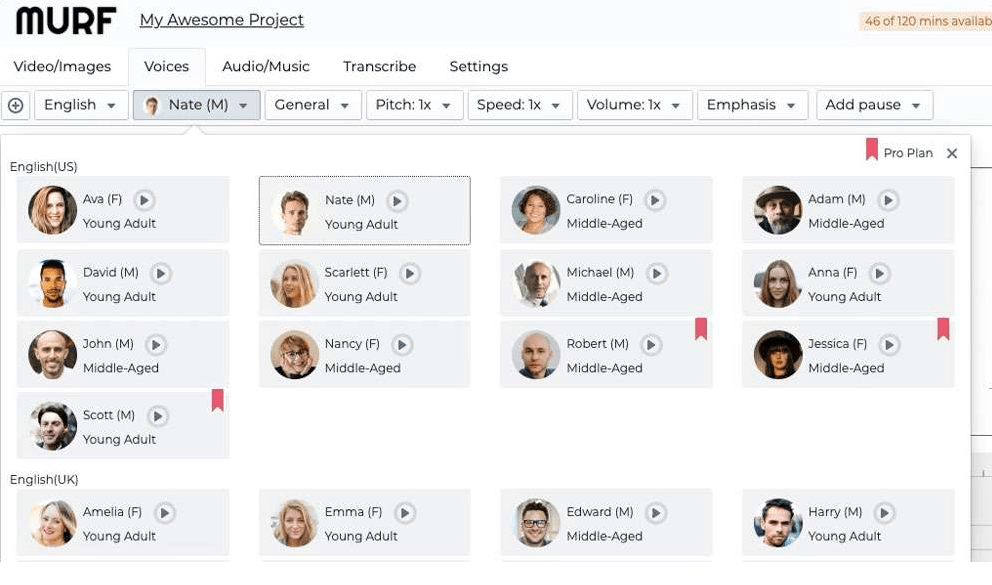 Step 02: Craft Your Script
Murf Studio's text editor is your creative canvas. Write your script directly in the studio or copy and paste from your existing content. The built-in AI grammar assistant ensures your script is polished and professional.
Break it Down: Each text block has a 1000-character limit. Need more space? Just add a new text block using the '+' button.
Emphasize and Pause: Fine-tune your script by adding emphasis and pauses. The 'Add Emphasis' option lets you graphically emphasize specific parts of sentences, elevating the impact of your narration.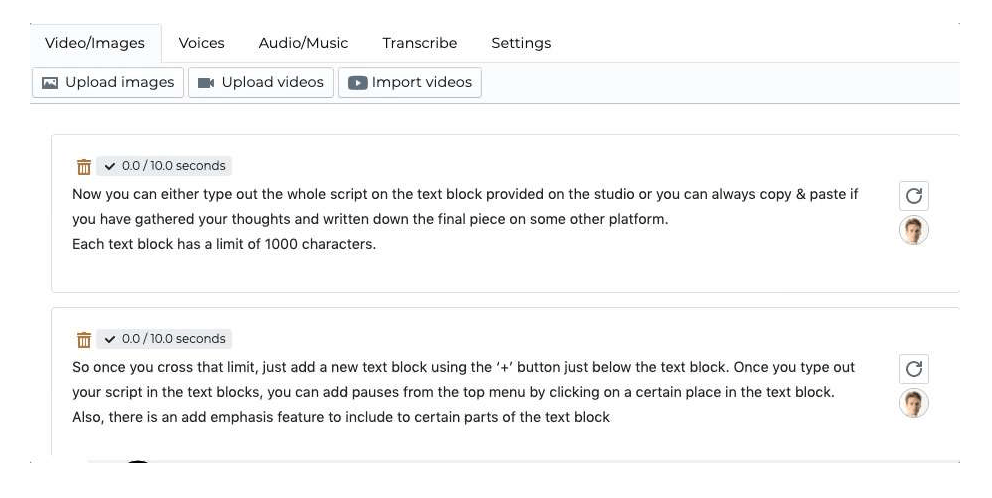 Step 03: Build, Test, Edit, and Share
Your script is ready, and now it's time to bring it to life:
Build Audio: Click on the 'Build Audio' button, and watch your voice over come to life instantly.
Sync Visuals and Audio: Click 'Play' to ensure your visuals and audio are perfectly synced. Quality matters, and Murf Studio ensures your content is aligned for maximum impact.
Download and Share: When satisfied, download your voice over in HD. If you're on a paid subscription plan, the download is ready. Otherwise, you can upgrade for access. Share your creation through a shareable link, whether it's for a specific period or a lifetime.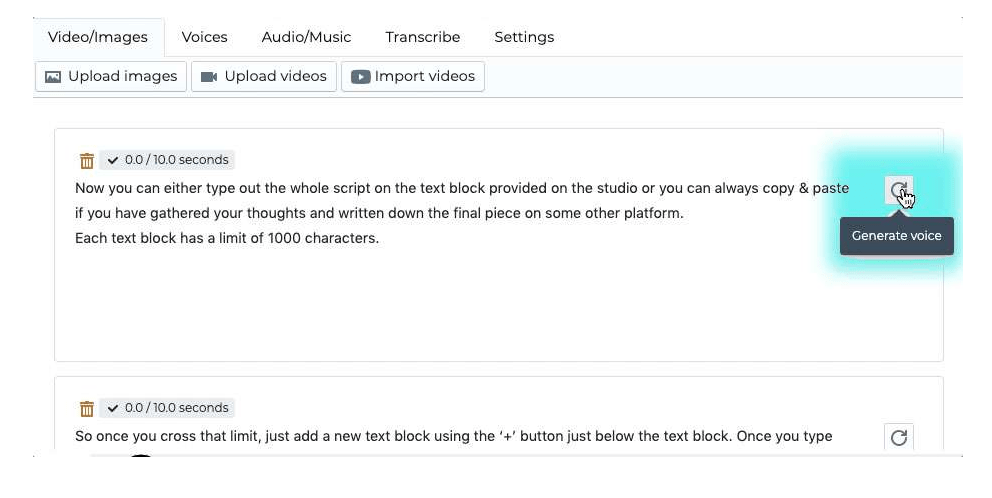 Promo Code for Murf AI: Looking for ways to get the most out of Murf AI? Explore how you can save on your voiceover projects with a special Murf AI promo code, making your creative journey even more affordable and exciting.
Mastering Customization with Murf Studio
Murf Studio offers a plethora of customizable features for voice overs that truly stand out:
Language & Voice: Choose from a library of over 110 voices in 15+ languages. Play around to find the perfect fit for your narration.
Pitch, Speed & Volume: Fine-tune pitch, speed, and volume to synchronize seamlessly with your visuals.
Emphasis & Pauses: Enhance mood and impact by adding emphasis and pauses. The 'Emphasis' button lets you graphically control the degree of emphasis on each word in a sentence, paired with effective pauses.
Safety with Murf AI: Concerned about the safety of using AI voice generators? Find out more about the security measures and practices employed by Murf AI to ensure a safe and secure user experience at Is Murf AI safe?. Your peace of mind matters.
Pro Tips for Seamless AI Voice Overs
Pronunciation Assistance: Not satisfied with how the AI voice pronounces specific words? Use the 'Pronunciation' button to spell out pronunciations.
Background Audio/Music: Elevate your voice overs with background audio. Murf Studio offers a gallery of royalty-free music, and you can even upload your own tracks.
Short Separate Lines for Emphasis: For maximum effect, consider using a specific point as a short separate line to emphasize key moments in your script.
Alternatives to Murf AI: Exploring alternative options is always a wise choice. Learn about the different platforms that offer similar features and functionalities to Murf AI in our comprehensive guide to Murf AI alternatives.
Murf AI Review: Delve into an in-depth review of Murf AI's capabilities, features, and user experience. Discover what sets Murf AI apart from the competition and how it can elevate your voiceover projects by reading our unbiased Murf AI review.
Unlock Your Creative Potential: Dive into Murf Studio Today
Your journey to crafting captivating voice overs begins with Murf Studio. Unleash your creativity, experiment with different voices, and let AI technology enhance your content creation process. It's time to create stunning voice overs that resonate with your audience. Head over to Murf Studio and embark on your voice over adventure today.
In the ever-evolving landscape of content creation, Murf AI stands as a beacon of innovation, making professional voice overs accessible to all. Whether you're a seasoned creator or just starting your journey, Murf AI's voice generator is your key to unlocking the world of immersive and engaging voice overs. Say goodbye to traditional recording studios and hello to limitless creative possibilities. Make your voice heard with Murf AI's revolutionary technology.