In the fast-evolving landscape of AI-driven technologies, Revoicer emerges as a groundbreaking solution that bridges the gap between text and expressive AI-generated voiceovers. In this comprehensive Revoicer review for 2023, we delve into the intricacies of this innovative AI text-to-speech online emotion-based voice generator. Discover how Revoicer is redefining the way we interact with audio content by providing natural and emotionally resonant voices for a multitude of applications.
In an era where audiovisual content dominates the digital landscape, the role of a human touch, or in this case, a human-like voice, cannot be overstated. Revoicer steps in as a game-changer, offering a lifelike and emotive quality to AI-generated voices. It opens doors to numerous creative possibilities, from enhancing video game narratives to enriching educational materials and captivating podcast audiences.
What is Revoicer?
Revoicer, at its core, is an AI Text-to-Speech (TTS) online emotion-based AI voice generator. Its primary function is to empower users with the ability to breathe life into their content through the magic of AI-generated voiceovers. What sets Revoicer apart is its capability to infuse these voices with emotions, making them sound not just automated, but truly engaging.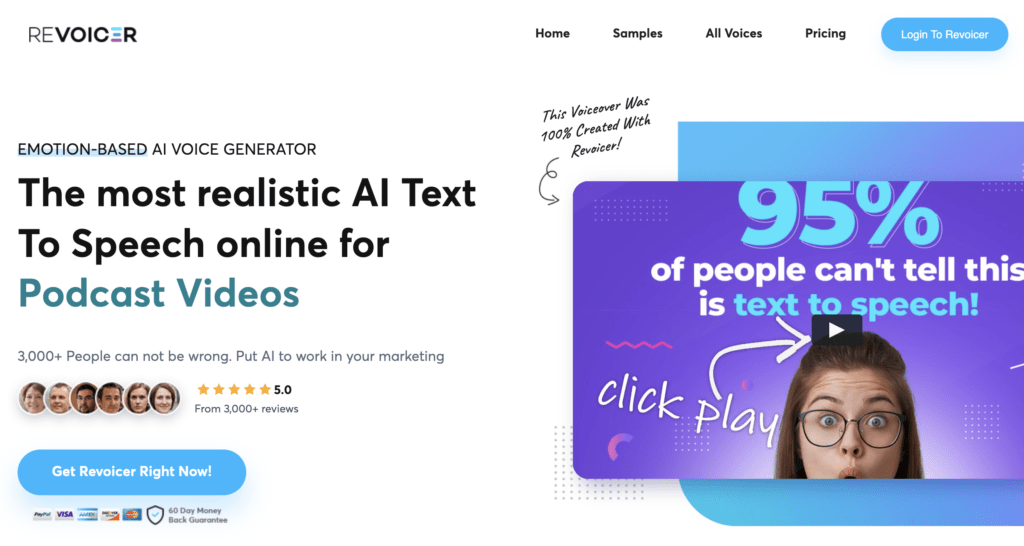 Key Capabilities of Revoicer:
Natural and Expressive Voices: Revoicer utilizes advanced artificial intelligence technology to craft voices that are both natural and emotionally resonant. These voices can convey a wide range of emotions, accents, languages, and more.
Customization: Revoicer offers a suite of customizable features such as pitch control, speed control, and support for multiple languages including English, Spanish, French, and German. This flexibility allows users to fine-tune the voices to suit their specific needs.
Key Features of Revoicer
1. Emphasis on Specific Words & Pauses
Revoicer empowers users to add emphasis to specific words or phrases effortlessly. This feature ensures that critical points in the voiceover are highlighted effectively, enhancing the overall impact of the content.
2. Multiple Accents
With an array of accents like American, UK, Australian, Indian, South African, and Irish, Revoicer enables users to inject unique character and emotion into their voiceovers. Different accents can convey sophistication, sociability, adventure, and more.
3. Support for 40+ Languages
Revoicer's multilingual support opens doors to global audiences. From Japanese to Spanish, Dutch to German, it facilitates the creation of voiceovers in diverse languages, broadening your content's reach.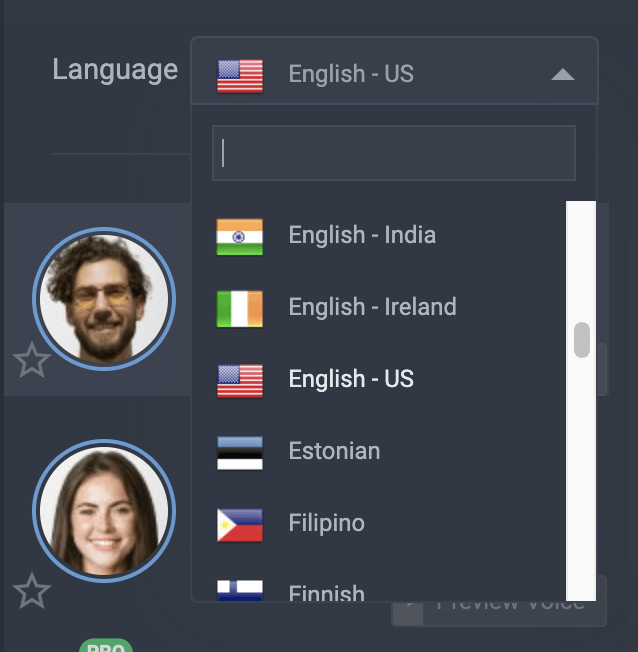 4. Voice Emotions
One of Revoicer's standout features is its ability to generate voices with various emotions, from serious to joyful and beyond. Users can select the tone that best aligns with their project, adding an extra layer of authenticity to the voiceover.
5. Change Speech Speed
Revoicer offers control over speech speed, allowing you to adjust it to your project's specific requirements. Whether you need faster narration, slower delivery, or even dramatic changes in pace, Revoicer accommodates it all.
6. 80+ AI Voices
The vast library of AI text-to-speech voices in Revoicer includes male, female, and kid voices, ensuring that you'll find the perfect voice to bring your content to life.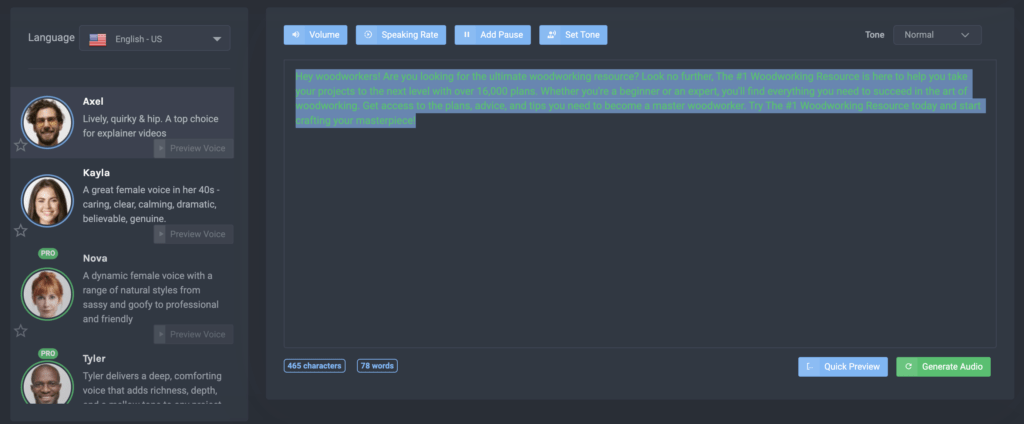 Practical Applications of Revoicer
Revoicer is a versatile tool with applications spanning various industries:
– Video Ads
Test different voiceovers to determine which resonates best with your target audience, all without the need for expensive production.
– Podcasts
Enhance your podcasts by creating custom voiceovers that captivate your audience and give your content a professional edge.
– Audio Books
Transform written works into professional audiobooks with Revoicer's AI text-to-speech emotion-based engine, enriching the listening experience.
– Documentary Videos
Elevate the storytelling in your documentaries by selecting the perfect voice from Revoicer's wide variety of AI text-to-speech voices.
– TV Commercials
Stay within your budget by adding voiceovers to scenes that don't feature live actors, all while maintaining a professional sound.
– School Lessons
Make learning interactive and engaging by incorporating voiceovers into lessons, providing translations for better accessibility.
– Support/Help Videos
Improve the user experience by using Revoicer to create voiceovers for demos and help videos, aiding in onboarding and feature explanation.
– Sales Videos
Create compelling and professional-sounding sales videos that engage your audience and drive conversions.
User-Friendly Interface and Customization
Revoicer's user interface is designed for simplicity. Creating a custom voiceover is a matter of minutes. Users can input their text, preview the generated audio, and save it to their device with ease.
Pricing and Purchase Guide
Revoicer offers competitive pricing options, including a recent one-time payment sale of $67. The platform also provides a 60-day money-back guarantee, ensuring satisfaction.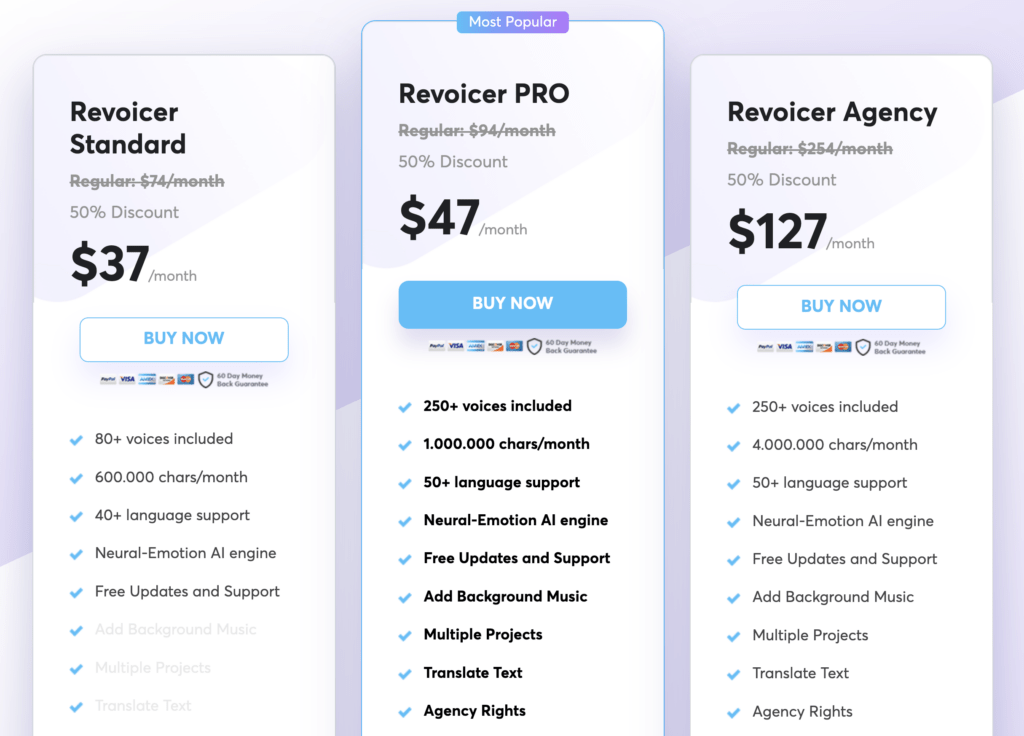 Why Revoicer Stands Out
Revoicer distinguishes itself with its emotion-based voices, crafted by experts in natural language processing and machine learning. Its wide range of customization options and user-friendly interface make it suitable for various projects.
MicMonster – Alternative to Revoicer
In the realm of AI-driven text-to-speech technology, MicMonster emerges as a formidable alternative to Revoicer, offering a range of features and capabilities that cater to a diverse set of users. Here, we'll explore how MicMonster stands as a compelling option for those seeking a powerful and user-friendly tool for transforming text into natural, expressive speech.
Learn more about MicMonster Limited Deal
Try Free MicMonster AI Voice Generator
Quarterly
$69
$39/qtr
Get 50% OFF
"50TODAY"
---
Unlimited Converts

140 languages

600+ Voices

12000 Characters per voiceover

Commercial license

Background Music Library

Advanced Editor
Annual
$299
$59.5/year
Get 50% OFF
"50TODAY"
---
Unlimited Converts

140 languages

600+ Voices

12000 Characters per voiceover

Commercial license

Background Music Library

Advanced Editor
Lifetime
$999
$399
Get 50% OFF
"50TODAY"
---
1 Million Chars/month
140 languages
600+ Voices
12000 Characters per voiceover
Commercial license
Background Music Library

Advanced Editor
Advanced Text-to-Speech Capabilities
MicMonster boasts a robust text-to-speech engine that is powered by the most realistic technology available. Its focus on achieving lifelike voice output sets it apart in the industry. Users can expect voiceovers that sound genuinely human, making it ideal for various applications such as e-learning, presentations, YouTube videos, and more.
MicMonster Pro's Advanced Editor
One standout feature of MicMonster Pro is the availability of an advanced editor. While Revoicer offers customization options, MicMonster takes it a step further with a comprehensive editor. Users can fine-tune various aspects of the generated voice, including speed, pitch, volume, and emphasis. This level of control allows for highly tailored voiceovers that align perfectly with the desired tone and emotion.
Extensive Voice Library
MicMonster offers an extensive library of over 600 voices in 140 languages. This diversity ensures that users can find the perfect voice to convey their message effectively, regardless of the target audience or language requirements.
Multi-Voice Feature
For added versatility, MicMonster allows users to select portions of the script and assign them to different voiceovers. This feature comes in handy when you want to infuse a distinct character or tone into specific sections of your content.
Custom Pronunciations
Users have the flexibility to customize word pronunciations with phoneme support. This feature is particularly valuable when dealing with industry-specific terminology or unique names.
Voice Inflections
Fine-tuning the voice tone is made easy with MicMonster's control over rate, pitch, emphasis, and pauses. Whether you need a fast-paced and energetic narration or a slow, soothing delivery, you have the tools to create the perfect voice tone.
Advanced editor
MicMonster's cloud-based solution has an advanced editor lets take the text to speech it to the next level. The advanced editor lets you
Multiple Voices In Single Script
Want to Create dialogue audio, no worries inside advance editor you can assign a specific portion of the script to any voice.
Pronunciation Support
AI technology Sometimes mispronounces invented words. With Pronunciation, you can control how to speak specific Words.
We could not find words that Micmosnter miss pronounced. But we are still looking
Control Speed, Pitch, volume for specific sentences
Using the advance editor you can control pitch, volume & speed for a specific portion of the script.
Emphasize
Stress on words that are important to the context. You can draw graph to customize how much stress you want to put on words.
With all these features, you can produce Voiceovers like the following:
User-Friendly Experience
MicMonster takes pride in its user-friendly interface, making it accessible to users of all backgrounds. The process of generating text to speech in English (United States) or other supported languages is streamlined into three simple steps:
1. Type or Paste Your Text
Begin by pasting or writing your text in the provided input field. Each voiceover can handle up to 300 characters.
2. Select the VoiceOver
Choose from a wide array of voices available. You can even listen to a default sample by clicking on the speaker icon to ensure it aligns with your vision.
3. Click on Generate
With a simple click on the "Generate" button, MicMonster transforms your text into speech within seconds. The efficiency of this process is a testament to its user-friendly design.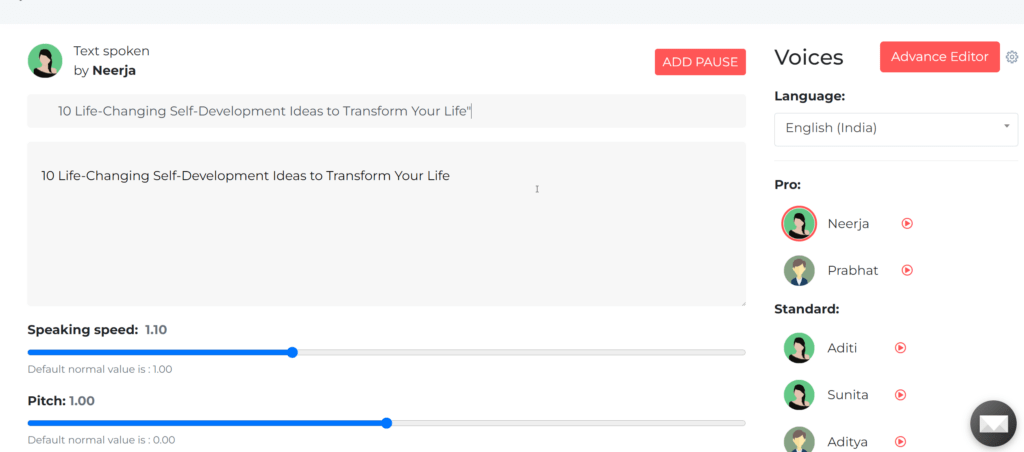 Trusted by Users and Brands
MicMonster has garnered recognition and trust from users and well-known brands alike. Users have praised its interface, the ability to preview before downloading, and its overall value proposition. It has been favorably compared to other solutions in the market, highlighting its potential as a cost-effective and high-quality tool.
Special Offer: 50% OFF on MicMonster Pro
For a limited time, MicMonster is extending a generous 50% discount on its Annual & Lifetime pricing plans. This offer unlocks a range of advanced features and customization options, making it the perfect time to explore the capabilities of MicMonster and start generating high-quality voiceovers for your projects.
Don't miss this opportunity to experience MicMonster's advanced text-to-speech technology at half the price. Click the pricing plans button to explore your options and transform your written content into natural-sounding speech with ease.
Transforming text into natural-sounding voices has never been more accessible with MicMonster. Join us in bridging the gap between real and AI voices.
Conclusion
In conclusion, Revoicer is at the forefront of AI voice generation, breathing emotion and life into text. Its ability to quickly and easily generate audio clips offers businesses a cost-effective way to enhance customer service, create engaging content, and stay competitive in the digital landscape. If you're seeking to bring your text to life effortlessly, Revoicer is the tool to explore.
Explore the future of AI-generated voiceovers with Revoicer today.